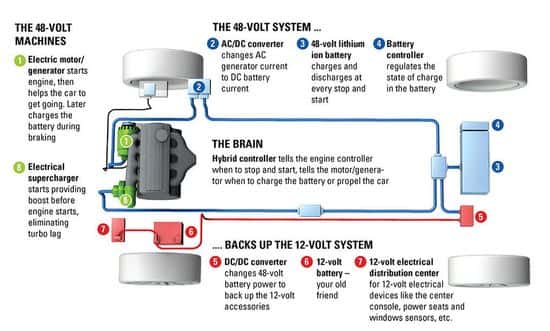 Delphi Automotive has unveiled a new 48-volt mild hybrid system that could come to market within 18 months as the company works with two global automakers.
Delphi's 48-volt, mild hybrid technology, demonstrated in a Honda Civic 1.6-liter diesel vehicle at the company's annual investor update, enables "intelligent" electrification. The customized vehicle architecture maximizes the use of the 48-volt electrification to minimize the demand on the engine, which Delphi says improves performance while lowering carbon-dioxide emissions by more than 10%.
The 48-volt mild hybrid technology leverages what engineers call an "e-charger" for improved vehicle launch. Delphi's demonstration vehicle increases low-end torque an average of 25%.
"Car buyers will buy 48-volt, mild hybrids for the added performance, and car companies will offer the technology because it will help them comply with environmental regulations," says Jeff Owens, Delphi's chief technology officer.
According to IHS market research, the industry is going to see a sizable shift within the next decade.
"One out of every 10 cars sold globally in 2025 will be a 48-volt, mild hybrid," adds Owens. "To put that into perspective, that's 11 million units a year – three times the volume of pickup trucks sold annually and more than half of the world's anticipated diesel passenger car market."
General Motors recently introduced a limited run of mild hybrid half-ton pickups for the U.S. market, and Fiat-Chrysler has announced plans for a Ram 1500 mild hybrid of its own.
It is estimated that 11 million 48-volt, mild hybrid vehicles would reduce oil consumption by four billion gallons over the life of the fleet, according to Delphi.