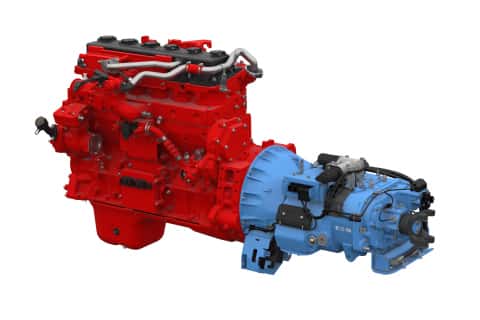 Cummins Westport and Eaton have rolled out a new integrated powertrain package for the Cummins Westport ISX12 G natural gas engine, pairing the 11.9-liter offering with the Eaton UltraShift PLUS automated transmission.
To date, the companies had been offering the ISX12 G with the Eaton Fuller Advantage Series manual transmission.
'We are delighted to provide an integrated package to customers who desire natural gas power paired with an automated transmission in their fleets,' says Lori Thompson, Cummins' vice president for its truck and bus OEM business segment.
The UltraShift PLUS automated transmission offers 'maximum power capacity, superior acceleration and low-speed maneuverability,' according to Eaton. It features intelligent shift-selection software, 'Hill Start Aid' to prevent rollbacks, and tailored shift logic to enable efficient operation and enhanced braking performance.
Cummins Westport and Eaton note that the new powertrain package will be available for line-haul and regional-haul applications in mid-2014.