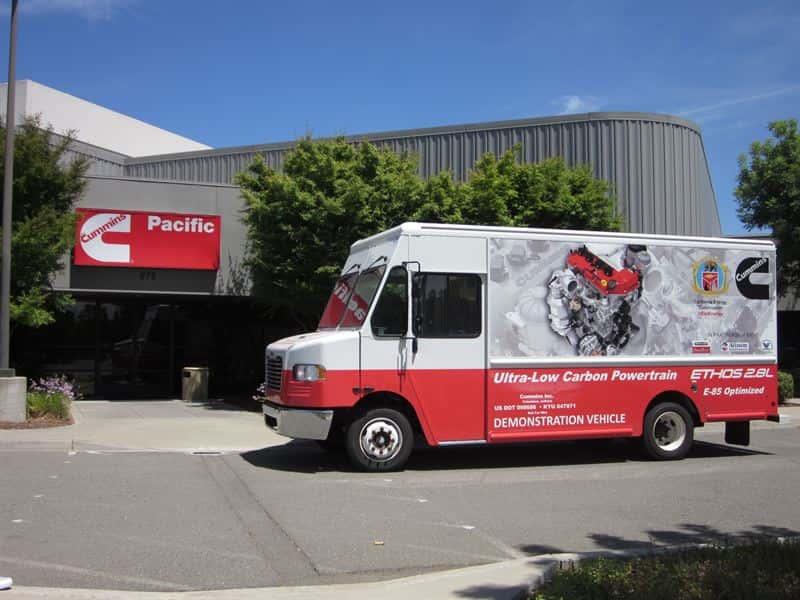 Cummins Inc. has developed a new engine known as the ETHOS: a 2.8-liter power plant for medium-duty truck applications that was designed specifically to use E-85 ethanol (85% ethanol and 15% gasoline).
The engine and Allison 2000 Series transmission were integrated into an MT45 Class 5 step van from Freightliner Custom Chassis Corp. and pilot-tested for more than 1,000 miles. The spark-ignited engine offers up to 250 hp and a peak torque of up to 450 lb.-ft.
The final on-road testing is continuing this month in the Sacramento, Calif., area, but preliminary results show that the truck can reduce CO2 emissions by as much as 80% compared with a baseline gasoline-powered medium-duty truck. The original goal for the project, which is funded by Cummins and the California Energy Commission, was a 50% reduction.
'By combining innovative engine design and combustion approaches with low-carbon alternative fuels, we can determine a path to significant reductions in greenhouse gas emissions,' says Wayne Eckerle, Cummins' vice president of research and technology.
The ETHOS engine also incorporates an integrated stop-start system, which further reduces fuel consumption and emissions. In stop-start mode, the engine shuts down after the vehicle comes to a complete stop and the brake pedal remains depressed. When the driver lifts his foot from the brake, the system automatically starts the engine to allow acceleration from the stop.