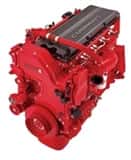 Cummins Inc. and Eaton are offering a new powertrain package for the North American heavy-duty truck market that integrates an Eaton Fuller Advantage Series automated transmission with new Cummins ISX15 SmartTorque2 ratings.
The companies say the offering will deliver a 3% to 6% improvement in fuel economy, along with lower preventative maintenance costs and total lifecycle cost improvements.
'This latest chapter in our partnership combines some of the best technologies from both companies and makes them smarter, delivering the level of fuel economy improvements that our customers have come to expect,' says Lori Thompson, Cummins' vice president of truck and bus OEM business.
The Eaton Fuller Advantage Series transmission will be offered as a small-ratio-step overdrive model with the ISX15 415 ST2 with torque ratings of 1,450/1,650 ft-lbs and the ISX15 450 ST2 rated at 1,550/1,750 ft-lbs.
The powertrain package is currently undergoing field testing with various fleets, and the product will be available this fall for line-haul, regional-haul and less-than-truckload applications.