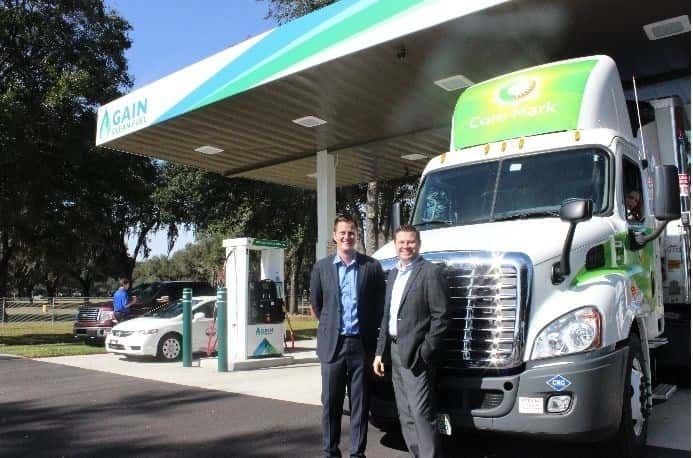 Core-Mark, a distributor and marketer of consumer goods in North America, and U.S. Gain, a division of U.S. Venture that owns and operates the GAIN Clean Fuel brand, have completed the last of five GAIN Clean Fuel compressed natural gas (CNG) stations announced under a partnership.
The companies have celebrated the grand opening of the new CNG station, located at 8346 E. Martin Luther King Junior Blvd. in Tampa, Fla. The other four stations built under this partnership are in Sanford, N.C.; Smyrna, Ga.; Aurora, Colo.; and Forrest City, Ark.
Core-Mark's commitment to a CNG program began with an initial conversion of its fleet. Today, Core-Mark operates 210 CNG tractors on the road, and the company is planning to add more in the future.
"We're excited to have this station in service," says Core-Mark Florida Division President Jason Nevin. "CNG advances our commitment to becoming more environmentally friendly through improved sustainable business practices. Utilizing GAIN Clean Fuel is key to that success."
U.S. Gain says it works jointly with its partner carriers to site GAIN Clean Fuel Stations in strategic locations.
"All aspects of a conversion to CNG must be beneficial for a carrier to make the commitment to convert," states U.S. Gain General Manager Bill Renz. "It starts with leadership having progressive thinking, and Core-Mark is definitely an industry leader. We're proud to be partnering with them on these projects."
Stephen Reich, coordinator if Tampa Bay Clean Cities, adds, "Projects like these show how great partnerships can succeed when working toward a common outcome that benefits so many. In addition to the many benefits of CNG, fewer emissions are produced, which is good for the environment and for all of us. Plus, utilizing CNG helps create energy independence for America."