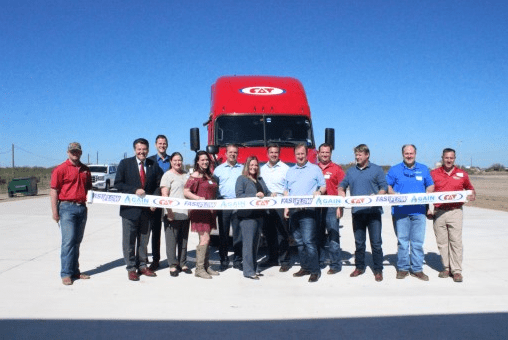 Representatives from U.S. Gain, Independence Fuel Systems (IFS) and Canadian American Transport (C.A.T.), along with local and regional dignitaries, have celebrated the grand opening of the newest GAIN Clean Fuel and FastFlow co-branded compressed natural gas (CNG) station in Laredo, Texas.
As previously reported, the station is located at 15668 N. U.S. Highway 83 and will mainly support C.A.T.'s growing fleet of CNG trucks.
"We're proud to make an investment in our future and be a leader in creating sustainable transport by opening our fifth CNG station with U.S. Gain and first station with IFS," says Daniel Goyette, president of C.A.T. Inc. "By converting our fleet to CNG, we've made a significant move to becoming more environmentally friendly and creating fuel price stability."
The company notes that nearly one-third of C.A.T.'s fleet of 350 tractors has been converted to CNG.
According to U.S. Gain, the Laredo location will provide easy-access and fast-fill capabilities, and it will be open for use by other fleets and the general public. They will also have fleet card acceptance capabilities for trucker convenience and provide reliability to ensure that fleets have a consistent fuel source.
"GAIN Clean Fuel is helping fleets and operations throughout the U.S. and Canada make the conversation to CNG," says GAIN Clean Fuel General Manager Bill Renz. "IFS has been a reliable partner for U.S. Gain and has been instrumental in the expansion of our CNG network throughout Texas. This is a heavily traveled trucking corridor, and we look forward to serving not only C.A.T., but other carriers seeking to take advantage of the benefits of CNG."
U.S. Gain, a division of U.S. Venture Inc., is a CNG fueling provider, offering fleet operators access to GAIN Clean Fuel as an environmentally friendly and cost-effective alternative to traditional fuel options.
A Texas-based division of IFS, FastFlow CNG owns and operates CNG fueling stations with patented fuel dispensing technology for public and private use.