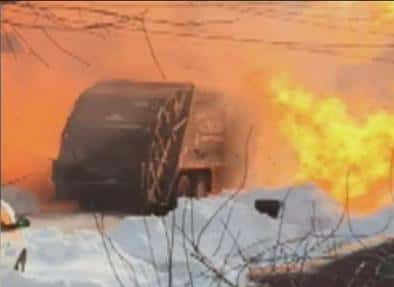 A garbage truck powered by compressed natural gas (CNG) erupted in a fireball on Tuesday in Hamilton Township, N.J., after a fire ignited fuel escaping through the pressure relief device (PRD) on one of the CNG tanks. No one was injured.
The ignition launched the CNG tank into a nearby resident's home, Hamilton Fire Chief Thomas Gribbin told NGT News.
"She heard the PRD letting loose and got up to go to the back of her house," Gribbin said. "The tank ignited moments later and went through her house, ending up in her dining room. She was very lucky."
Three other homes were damaged in the blast, including broken windows and roof damage. "Once [the first CNG tank] let go, we cooled down the other four tanks with water," Gribbin added.
The two truck operators reported smoke in the truck's cab, prompting them to evacuate the vehicle and try to extinguish the fire themselves. When that failed, they put in a call to the fire department.
An investigation into the cause of the fire is under way, although Gribbins emphasized that he "doesn't believe it was a tank issue."
The truck belongs to Central Jersey Waste and Recycling. Back in 2008, the company became the first in the New Jersey waste management industry to operate natural gas refuse trucks in a partnership with Hamilton Township and Clean Energy Fuels.
According to Gribbins, about 90% of the garbage trucks in Hamilton run on CNG.
Resident Cindy Partyka took a video of the fire. That video is available here.