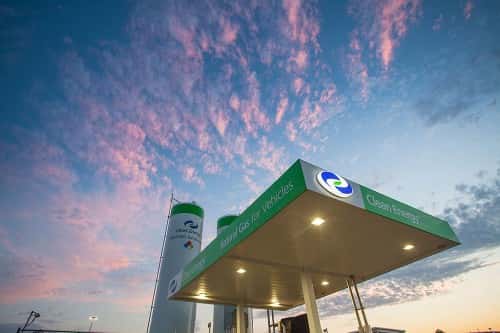 Clean Energy Fuels has announced that it won a $10 million, multiyear procurement from New Jersey Transit (NJ Transit), the nation's third-largest provider of bus, rail and light rail transit, which links major points in New Jersey, New York and Philadelphia and provides close to 223 million passenger trips each year.
The procurement includes rebuilding a large compressed natural gas (CNG) fueling station, as well as additional garage modifications and the repair and maintenance of facilities through 2020. NJ Transit is expected to operate a fleet of 147 CNG commuter buses estimated to consume approximately 2 million gasoline gallon equivalents (GGEs) each year.
Clean Energy also signed other agreements across the transit, refuse and trucking markets, including the construction of new stations and extended maintenance and fueling contracts.
SP+, a provider of professional parking management, has signed a five-year fueling agreement with Clean Energy to fuel 16 CNG buses for a new Consolidated Rent-A-Car facility located at the San Diego International Airport. The buses, owned by the San Diego Airport Authority, are anticipated to consume approximately 27,000 GGEs per month and will fuel with Redeem, Clean Energy's renewable natural gas derived from biomethane.
Long-time customer Dillon Transportation has signed a new agreement with Clean Energy to fuel its heavy-duty trucks in Texas with Redeem. Dillon currently operates 72 CNG and liquefied natural gas (LNG) trucks out of Dallas, San Antonio, Midland and Houston, which now fuel with Redeem to meet their customers' sustainability goals. In 2015, Dillon's fleet consumed 1.1 million GGEs of natural gas in Texas.
Raven Transport will deploy an additional 10 new LNG tractors out of Clean Energy's Fort Worth, Texas, station starting in early March, which are expected to consume approximately 220,000 GGEs annually. The fueling contract runs through 2020.
New customer Blackrock Logistics, based out of Pleasanton, Calif., has deployed 10 CNG trucks for its fleet and will be fueling at Clean Energy's Fontana, Calif., station. The three-year fueling agreement represents approximately 110,000 GGEs of CNG each year.
Clean Energy has signed a contract to design and build two stations for Recology Inc., one of the largest private refuse fleets in the country. In Brisbane, Calif., Clean Energy will design and build a time-fill and fast-fill station to support Recology's current fleet of 64 CNG trucks and be able to support its growth to 200 trucks in the future. At Recology's Gilroy, Calif., station, Clean Energy will design and build a time-fill station to support 50 CNG trucks.