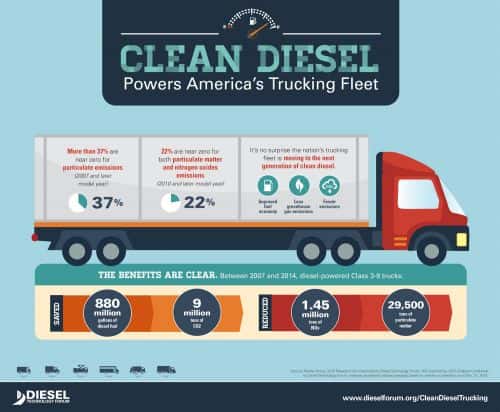 The success in reaching Phase 1 of federal greenhouse-gas and fuel-efficiency standards for medium- and heavy-duty vehicles and the new complex challenges in achieving the proposed Phase 2 of regulations were outlined last week during a rulemaking hearing conducted by U.S. Environmental Protection Agency (EPA) and National Highway Traffic Safety Administration officials.
When the Obama administration originally revealed the Phase 2 proposal in June, environmental groups, engine manufacturers, trucking associations, and alternative fuel organizations, among other stakeholders, responded with mixed reactions.
Allen Schaeffer, executive director of the Diesel Technology Forum, was one of the many representatives who testified at the Chicago hearing last week, and he presented his case for why clean diesel technology could play a "key" role in helping the U.S. reach its new goals.
'Today, manufacturers of commercial trucks, engines and their components produce the cleanest, safest and most fuel-efficient technology in the world, and over 95 percent of those vehicles are powered by diesel engines," said Schaeffer. "Advances in diesel engine technology will continue to contribute to the overall efficiency gains of vehicles under this proposed rule. As a result, we expect diesel technology to remain the primary power-plant for commercial trucks into the foreseeable future."
'For all parties, the challenge of further increasing fuel efficiency while maintaining or improving environmental, safety and productivity of commercial vehicles is as important as it is complex," he continued. "To be successful, the final outcome here must build on the success already accomplished in achieving near-zero emissions with today's new clean diesel technology and drive continued innovation while ensuring that the end products are highly desired by customers.'
'When finalized, these rules will join the Clean Power Plan [and] light-duty vehicle efficiency standards as the third key component of the administration's climate change plan and are expected to contribute substantial greenhouse-gas emission reductions while helping to advance commitments to the international climate convention.'
In light of the Clean Power plan, Schaeffer said, '[W]e thought it was important to note that new technology clean diesel trucks on the road between 2010-2014 have already reduced annual carbon emissions by about the same amount as 2.4 coal-fired power plants and [nitrogen oxide (NOx)] emissions equivalent to … 158 coal-fired power plants."
Schaeffer also claimed that diesel will continue to be the fuel technology of choice because it offers an "unmatched combination of power, increasing energy efficiency, work capability, reliability and now near-zero emissions environmental performance, along with an ability to utilize a variety of low-carbon renewable diesel fuels."
Schaeffer said that since 2000, the leaders in clean diesel technology and the EPA have worked cooperatively in establishing a regulatory pathway that brought about the introduction of an entire new generation of clean diesel engines for both on- and off-road applications.
'Manufacturers have met the challenge to virtually eliminate both NOx and particulate emissions from diesel engines, reducing emissions by as much as 98 percent from previous levels,' he said. 'These new technology clean diesel engines are being widely embraced by customers as evidenced by the increasing penetration into the vehicle population.'
Citing state vehicle registration data for 2014, Schaeffer said that of the roughly 9.2 million Class 3-8 heavy-duty vehicles on the road nationwide, about 38%, or 3.4 million vehicles, are deployed with a 2007 or newer model year engine. Of these, 20% or roughly 1.9 million vehicles on the road meet the 2010 emissions milestone that requires near-zero levels of both particulate matter and NOx emissions, Schaeffer added.
He also cited Fuels Institute data saying that by 2023, diesel engines will power between 95% and 97% of all medium- and heavy-duty vehicles. That, according to the report, is supposedly despite the introduction of alternative fuels and powertrains, including all-electric, fuel cell and continued introduction of natural-gas-powered vehicles.
Factors to Consider
As the EPA works to develop the final Phase 2 rules, Schaeffer said it is important that the rule must be a national program uniform to all 50 states, including California; remain fuel neutral in nature; provide ample lead time and stability; be compatible with the needs and complexities of the diverse marketplace; be mindful of the other requirements placed on industry relative to environmental and safety requirements of commercial vehicles; harmonize standards to the greatest extent possible; and carefully consider the longstanding trade-off between NOx and CO2.
'Now achieving near-zero emissions, clean diesel technology powers the overwhelming majority of medium and commercial trucks today, and thanks to these improvements is poised to continue as the prime powertrain technology for commercial vehicles in the future,' Schaeffer said. 'The engine may look and perform somewhat differently, and may be burning different kinds of low-carbon fuels. But in the end, it will still be a diesel engine and an integral component of meeting the needs of a growing economy and a cleaner and more sustainable future."