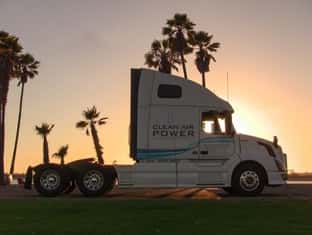 Clean Air Power Ltd., a developer of compression-ignited natural gas engine systems for heavy-duty vehicles, says its Genesis-EDGE Dual-Fuel system has been certified by the California Air Resources Board (CARB).
This announcement comes on the heels of the Environmental Protection Agency's certification for the product earlier this year. The company says its Dual-Fuel system is now eligible for distribution and sale in all 50 states.
Clean Air Power has also announced a distribution agreement with TEC Equipment Inc., a Volvo and Mack truck dealership that operates in California, Nevada, Oregon and Washington.
Through the partnership, TEC will offer full sales, installation and product support services for customers of Clean Air Power's Genesis-EDGE Dual-Fuel system.