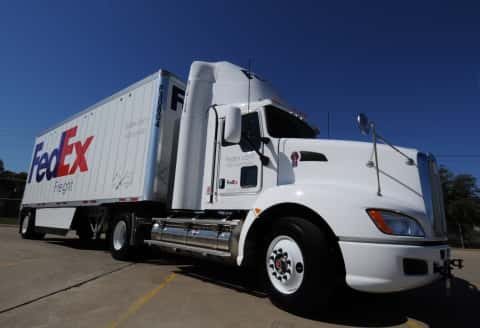 FedEx Corp. subsidiary FedEx Freight has taken delivery of two new heavy-duty trucks that are powered by liquefied natural gas (LNG) engines – the new 11.9-liter Cummins Westport ISX12 G.
The company will be testing the vehicles out of its service center in Dallas, from where they will be used in regular line-haul operations. FedEx Freight says the trucks will likely run almost 1,000 miles per day, which will enable the company to 'quickly and thoroughly test the new engine's ability to meet the needs of day-to-day operations.'
'We are proud to be the first fleet to receive these new tractors fitted with natural gas-only engines,' says John Smith, vice president of safety, fleet maintenance and facility services for FedEx Freight.
Cummins Westport's ISX12 G, which can run on LNG or compressed natural gas (CNG), is based on the Cummins ISX12 heavy-duty diesel engine platform. No diesel particulate filter or selective catalytic reduction after-treatment is required on the engine.