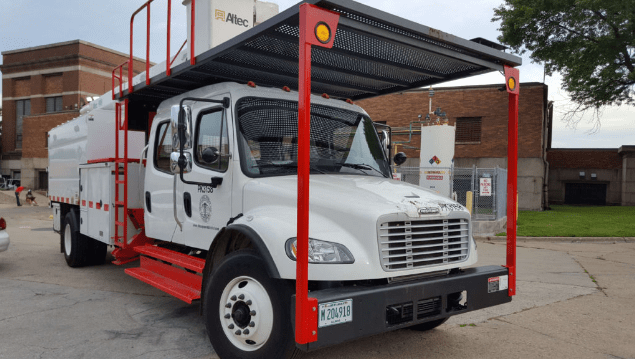 The Chicago Park District says its environmentally friendly biodiesel program has continued to pay off, and consequently, will showcase the program at a Fleet Education Seminar hosted by the Chicago Area Clean Cities Coalition on Thursday, Sept. 8.
The Chicago Park District's program, which uses old cooking oil from local restaurants and events like the Taste of Chicago, enables the Park District to annually consume 8,700 gallons of ASTM-certified biodiesel at up to a 50% biodiesel/diesel blend. The high-blend biodiesel fuel is used in 56 of the district's diesel fleet, including garbage trucks and log loaders.
"We made the move to clean-burning biodiesel fuel a few years ago," says Michael Dimitroff, manager of art initiatives in the department of cultural and natural resources for the Chicago Park District, a member of Chicago Area Clean Cities. "It has been paying off from the start, helping us to reduce vehicle emissions and save fuel, as well as save thousands of dollars annually on the cost of fuel."
The program is a public/private partnership with Darling International, the Renewable Energy Group (REG) and the Chicago Park District. The Texas-based Darling International makes a yearly donation of feedstock to the Chicago Park District that is then converted to biodiesel by REG in its Danville, Ill., facility and sent to the park district's fueling site for fleet usage. The biodiesel meets BQ-9000 specifications, which is the highest quality biodiesel available.
In 2011, the Chicago Park District re-purposed an underutilized fleet fueling site to enable biodiesel blending at the fuel pump. Indigenous Energy, based in Chicago, oversees the biodiesel program and operates the fueling site located at Lakeshore Drive and 39th Street.
"Government fleets in Illinois are required to use at least 5 percent biodiesel, and all the park district's diesel vehicles are complying with – or surpassing – that mandate," says Pete Probst, director of research and development for Indigenous Energy. "We ensure a seamless integration of high blends of biodiesel by maintaining fuel integrity and closely monitoring the health of the fleet. The CPD stores the biodiesel in underground tanks and directly fuels their fleet from the blending dispenser and uses the CPD tanker truck to fuel vehicles at other locations throughout the city."
The Chicago Park District has a fleet of more than 550 vehicles, including nearly 200 vehicles that use a 10% to 20% blend of biodiesel, 56 that use up to 50% biodiesel, 80 that use E85 fuel, more than 50 hybrid-electric vehicles, and 12 that use clean-burning compressed natural gas.
"The benefits of using renewable fuels and electric vehicles include reducing greenhouse-gas emissions, decreasing vehicle emissions, lowering demand for fossil fuels, increasing demand for domestic-based fuels, which increases fuel security, and saving money," Dimitroff comments.
The biodiesel workshop will be held at the Maple Meadows Golf Course, 272 S. Addison Road, Wood Dale. Representatives from Clean Cities and the B20 Club, which was initiated in 2015 as a way to recognize Illinois-based fleets running on biodiesel blends of 20%, will be available to demonstrate the fuel's benefits.