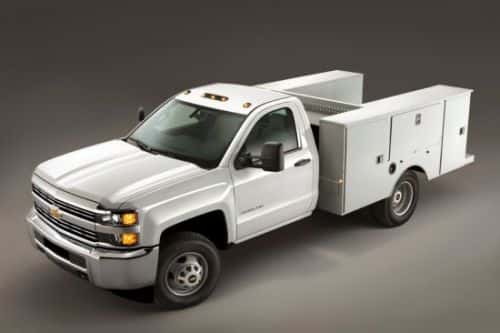 Chevrolet has announced it will expand its compressed natural gas (CNG) lineup to include the bi-fuel 2016 Silverado 3500HD Chassis Cab, allowing drivers to operate the vehicle on CNG or gasoline. Bi-fuel will be available on the regular cab in both 2WD and 4WD drivetrains starting in the fourth quarter.
The Silverado 3500HD Chassis Cab joins the bi-fuel Silverado 2500HD and 3500HD and the dedicated CNG full-size Chevrolet Express and vans.
The company says its Silverado 3500HD has a proven reputation as the ultimate work truck for fleets, many of whom are looking to reduce emissions and save money at the pump.
Southern California Gas Co., for instance, has more than 5,000 units on the road, and 22% of its over-the-road fleet currently operates on natural gas. The utility has committed to make the majority of its over-the-road vehicles operate on CNG by 2020, and it is looking to the bi-fuel Silverado 3500HD Chassis Cab to help meet that goal.
"A chassis cab configuration is the bread and butter of our fleet and the vehicle we rely on to service customer homes," says Tony Orta, Southern California Gas' strategy and maintenance manager. "The turnkey bi-fuel option offered by Chevrolet allows us to reduce our carbon footprint while giving us the fueling flexibility and range we need to keep drivers on the road servicing customers."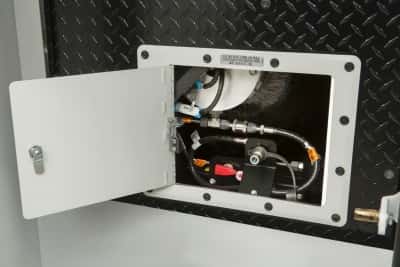 Chevrolet says the vehicle's 24.5-gallon CNG tank, located directly behind the cab, adds to the 23.5-gallon gasoline tank and gives drivers fueling flexibility and optimal range between fill-ups.
"CNG burns cleaner and costs less at the pump than gasoline, making it an appealing option for fleets," comments Ed Peper, U.S. vice president of GM Fleet & Commercial. "Expanding our CNG lineup furthers our commitment to provide a diverse lineup of alternative fuel vehicles for our customers."
The company notes all of the CNG fuel systems are warranted and validated by Chevrolet. For qualified commercial and government fleet customers, the five-year/100,000-mile (whichever comes first) powertrain limited warranty covers the CNG fuel system and its components. For all other customers, it is covered under the Chevrolet Complete Care five-year/60,000-mile powertrain limited warranty. As part of Chevrolet Complete care, both fleet and retail customers also receive two years/24,000 (whichever comes first) of scheduled maintenance.
All major components associated with the CNG system also carry GM service part numbers and are available throughout the company's dealer network.