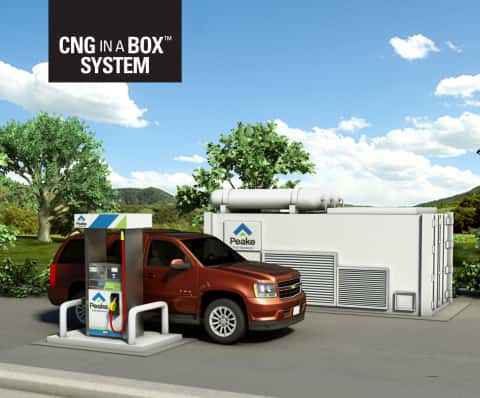 GE and Peake Fuel Solutions, an affiliate company of Chesapeake Energy Corp., have officially rolled out CNG In A Box – a compressed natural gas (CNG) fueling system tailored to fleets and fuel retailers.
The CNG In A Box system – reports of which began circulating earlier this year – is 'a plug-and-play, on-site fueling solution that comes with everything retailers need to add low-cost natural gas fuel to their operations quickly and simply,' the companies say.
GE Capital is providing fleets and retailers with financing options for CNG In A Box. These options put every piece of the deployment – including equipment, delivery and installation – into a single monthly payment.
'Peake Fuel Solutions' customers can structure payments according to their cashflow and eliminate the costs and time associated with paying multiple vendors,' the companies note in a press release. 'With this solution, business owners can work with a single provider to acquire, finance and maintain their CNG In A Box system.'
The system is housed in a highly mobile, shippable eight-foot x 20-foot container. GE Energy's Wayne business unit manufactures the system's CNG dispensers, which feature PCI-compliant, pay-at-the-pump technology.