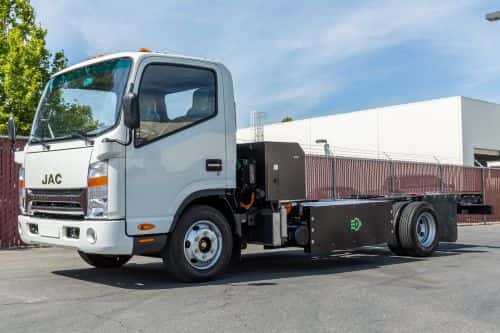 Efficient Drivetrains Inc. (EDI) and Greenkraft, in partnership with CALSTART and the California Energy Commission, have developed a compressed natural gas (CNG)-powered plug-in hybrid electric logistics truck.
EDI's team integrated an optimized EDI-Power powertrain and battery pack with 40 miles of all-electric range into a Greenkraft Class 4 CNG truck. EDI says its technology effectively tripled the miles per gasoline gallon equivalent (GGE) of the baseline CNG-powered truck from approximately 9 miles per GGE to 27 per GGE.
'We're very excited about our new technology partnership with Efficient Drivetrains. The collaboration on zero-emissions-capable vehicles will be a strong offering as the commercial trucking industry battles to reduce emissions," comments George Gemayel, president of Greenkraft.
The truck was officially unveiled at a Voice of the Customer event hosted by CALSTART at the Southern California Gas Energy Resource Center on Tuesday.