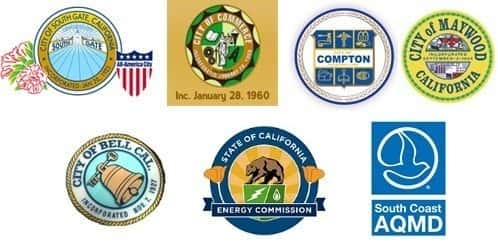 The mayors of five California cities near polluted freeway corridors are calling for cleaner heavy-duty trucks along those corridors and have highlighted natural gas vehicle (NGV) technology, according to Southern California Gas Co. (SoCalGas).
The utility says the South Gate, Commerce, Maywood, Bell and Compton mayors were joined by representatives from the California Energy Commission (CEC), the South Coast Air Quality Management District (SCAQMD) and SoCalGas at an event Tuesday.
Attendees also included representatives from Cummins Westport, whose new ISL G Near Zero (NG) dedicated natural gas engine recently received certifications. The engine development funding came from SoCalGas, the SCAQMD and the CEC.
"The new Cummins Westport Inc. ISL G NZ engine offers a commercially available option for California fleets to replace their aging vehicles with engines that have nitrogen oxide tailpipe emissions that are 90 percent lower than existing standards," said CEC Commissioner Janea A. Scott. "The Energy Commission is pleased to be part of the public-private partnership that helped develop this new engine and looks forward to the expansion of this technology to other engine sizes and vehicle applications."
"We're pleased to be part of this effort," said Rodger Schwecke, vice president of customer solutions for SoCalGas. "Natural gas is one of the most affordable and cleanest burning alternative fuels available today."
In addition, the mayors explained why they want cleaner trucks on the freeway corridors.
"As a person who grew up with asthma, I've experienced firsthand the impacts of pollution in my community," said South Gate Mayor Jorge Morales. "We must act now to encourage cleaner technology within the heavy-duty transportation industry so that my child and the children of South Gate can breathe cleaner air."
"The City of Compton sits between multiple freeways, and my constituents are particularly vulnerable to the adverse impacts of poor air quality," said Compton Mayor Aja Brown. "Today, we have an opportunity to deploy more clean trucks to greatly improve the quality of life for families and children in our cities."
SoCalGas says Waste Management, which operates a fleet of over 4,500 natural gas trucks in North America, displayed one of its compressed natural gas (CNG)-powered refuse trucks at the event.
"Providing our customers with outstanding service with minimal impact to the environment is top priority for our company," said Janine Hamner, municipal and community relations manager for Waste Management of Southern California. "Since natural-gas-powered collection trucks run cleaner and quieter, we've made the commitment to use more in our local operations as we work to keep communities clean in the most sustainable manner possible."