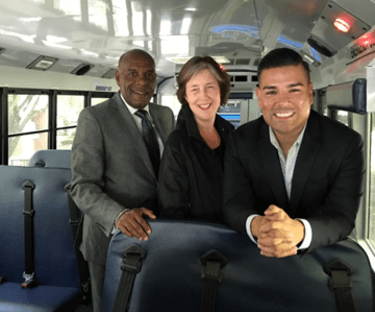 Four California state senators are calling for significantly increased state funding to reduce emissions from trucks and buses.
On Aug. 29, Sens. Nancy Skinner, D-Berkeley; Dr. Richard Pan, D-Sacramento; and Bob Wieckowski, D-Fremont, joined Sen. Ricardo Lara, D-Bell Gardens, at Clean Truck and Bus Day, co-organized by Lara and CALSTART.
The lawmakers spoke in front of nine clean energy trucks and buses on the Capitol East Lawn in Sacramento. The vehicles included a new all-electric school bus from the Twin Rivers Unified School District – one of 29 zero-emission school buses in the Sacramento area funded through the cap and trade program.
Specifically, the legislators are calling for nearly $1 billion in cap and trade funding and other revenues to be invested in the retrofit and/or replacement of diesel-fueled vehicles through programs such as the California Clean Truck and Bus Program, the Hybrid and Zero-Emission Truck and Bus Voucher Incentive Program, and the Carl Moyer Air Quality Standards Attainment Program.
"Diesel trucks and buses are just three percent of vehicles on the road in California, but they produce 23 percent of greenhouse-gas emissions from transportation and the majority of air pollution," said Lara. "We need to dump dirty diesel trucks and buses for the health of children and the health of our planet, and the state of California should invest in helping small operators like the Long Beach port truckers and school districts to make the shift to clean fuels."
"As a pediatrician, I see children with asthma and other respiratory and cardiovascular diseases which are caused or exacerbated by exposure from pollutants in the air they breathe," added Pan. "With the deployment of the largest fleet of electric buses in the country by Twin Rivers Unified School District in my Senate district, Twin Rivers students will be exposed to fewer pollutants riding to and from school, and we need to increase funding in this clean technology so all Californians will benefit."
The California Legislature voted in July to reauthorize the state's landmark cap and trade program under A.B.398, which will generate hundreds of millions of dollars for projects that reduce air pollution and greenhouse-gas emissions, the lawmakers say. The legislature must approve an expenditure plan, and mobile sources such as trucks and buses are a priority for cap and trade funds, they add.
CALSTART is voicing its strong support for the senators' call to action.
"We are at a pivotal point where the technology is emerging, and we now have the chance to move toward a future where trucks and buses produce either zero or virtually zero emissions," says Bill Van Amburg, CALSTART's senior vice president. "In addition to improving public health, California policies are resulting in significant new job creation. Companies are moving to California to build trucks and buses because this is where the market is growing the fastest."