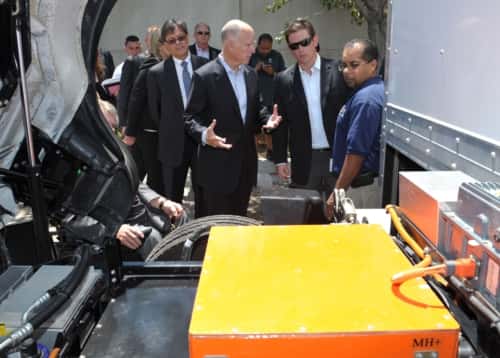 California Gov. Edmund G. Brown Jr. was present yesterday at Frito-Lay North America's facility in Torrance to show his administration's support for Frito-Lay's substantial efforts toward fleet electrification.
By the end of this year, Frito-Lay will be operating approximately 275 all-electric delivery trucks nationwide, the company says – 105 in California alone. These California-based trucks, which will run routes to and from distribution centers in Alameda, City of Industry, La Mirada, Manteca, San Diego, San Jose and Torrance, will eliminate the use of an estimated 200,000 gallons of fuel annually.
'Nearly 20 percent of our medium/heavy-duty delivery trucks in the state of California are slated to be transitioned to all-electric vehicles,' says Leslie Starr Keating, senior vice president, supply chain, for Frito-Lay North America.
To help fund the EV rollout, Frito-Lay received support from the Mobile Source Air Pollution Reduction Review Committee (MSRC), the California Energy Commission and the Hybrid Truck Bus Voucher Incentive Project from the California Air Resources Board, which is administered by CALSTART.
'These electric vehicles prove we possess the capacity, technology and imagination to make change happen,' Brown said. 'That's the significance of today – efficiency, elegance and renewable energy coming together for a private company, in partnership with state and federal government.'
Matt Rodriquez, secretary of the California Environmental Protection Agency, was also on hand at yesterday's event.