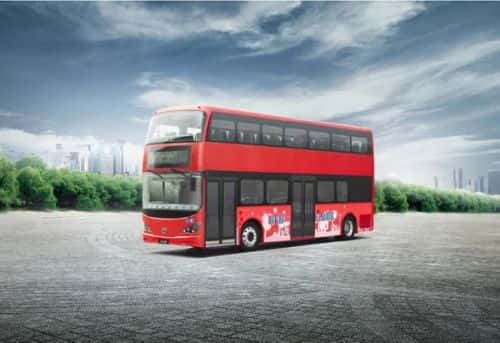 China-based BYD Co. Ltd. has announced it will design and build what the company claims is the world's first all-electric double-decker bus for the City of London.
City Mayor Boris Johnson touted the deal during the inaugural Clean Bus Summit, which he recently hosted at London City Hall. Representatives from major world cities and bus makers attended the event.
A press release from the mayor's office says, "Many believed that a pure electric double-deck bus would not be possible due to the size of the battery packs required to power it. However, by working with BYD and utilizing the latest cutting-edge technology, London has been able to secure another world first."
The mayor notes that since 2008, London has rolled out more than 1,300 hybrid electric buses and retrofitted more than 1,400 buses to reduce their emissions by up to 88%. The new double-decker bus is slated to enter service on London's Route 16 in October.
Rendering of the all-electric double-decker bus courtesy of BYD