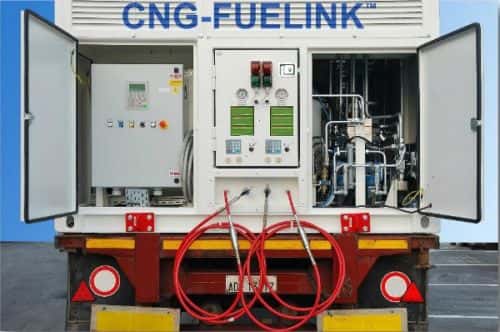 Strategic partners Illinois-based Broadwind Energy and Italy-based SAFE SpA have announced the CNG-FUELINK, a mobile unit for refueling compressed natural gas (CNG) vehicles in regions without pipeline infrastructure.
The companies, which joined forces in 2014, say the CNG-FUELINK features a compact design and four cylinders and can dispense directly into two vehicles simultaneously.
Furthermore, the partners say the portable unit offers up to 6 GGEs per minute when combined with a three-bank storage system at 3600 psig. The product requires no external power supply and has a compressor driven by a gas engine. Other features include an electrical control panel and display powered by an onboard battery and inverter, as well as remote monitoring and diagnostics, with automatic system shutdown in the event operational parameters are out of normal range.
Download the CNG-FUELINK brochure here.