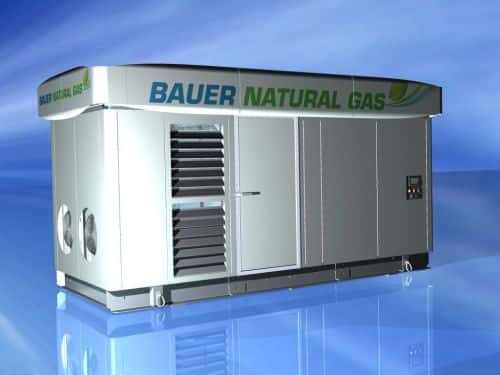 Bauer Compressors Inc. has introduced a new family of large-capacity compressed natural gas (CNG) compressor packages – the C26 X-Fill series.
According to the company, this lineup of equipment is available in models ranging from 125 hp to 175 hp, accommodating inlet pressures from 5 to 550 PSIG. Output from these units, which incorporate Bauer's C26 direct-drive, water-cooled compressor technology, is 75 to 178 GGE/hr (150-355 cfm) at 5,000 PSIG final pressure. The packaged size of the equipment is 18' L x 7.3' W x 9.75' H.
Bauer notes that the C26 X-Fill can be optioned with up to 98 GGE of integrated CNG storage via a three-pack of 24′ OD ASME storage vessels.
'The C26 X-Fill has been engineered to achieve large-capacity performance in an attractive and extremely quiet package, which makes it particularly suitable for densely populated areas where low noise and visual appeal are of importance,' the company says.
For more details about the C26 X-Fill products, send an email to sls@bauercomp.com.