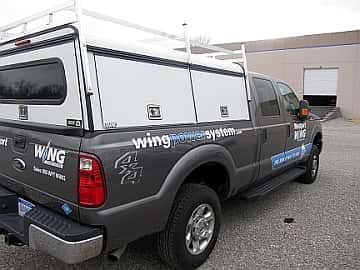 A.R.E., a manufacturer of truck caps, tonneau covers and other truck customizations, has begun offering aftermarket products and installation services for some Ford and GM trucks that feature compressed natural gas (CNG) fuel systems.
'We understand the dynamics of the large tanks that are required in the back of most CNG-powered vehicles,' says Jim Blayne, national fleet sales manager for A.R.E.'s commercial fleet division. 'We have the ability and experience in custom manufacturing doors and shelving that work well in CNG-powered trucks.'
A.R.E.'s Deluxe Commercial Units (DCUs) can be designed with ladder racks, flip-up doors with tool boxes on the side and back, or side doors. These waterproof enclosures are fabricated with aluminum, the company notes.
For more information, send an email to fleetsales@4are.com or call (330) 232-1757.