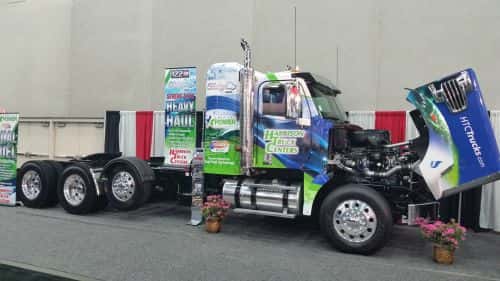 American Power Group (APG) will display its 'Fueled By Flare' dual-fuel natural gas system on a 2015 Freightliner 122SD severe-duty glider kit at next week's Bakken Conference & Expo in Grand Forks, N.D.
The company says the dual-fuel severe-duty glider kit was designed and assembled by Harrison Truck Centers (HTC) as a vocational vehicle for oil and gas, mining, logging, and oversized load trucking applications.
As APG explains, a Freightliner glider kit is designed, engineered and assembled alongside new Freightliner trucks, giving the prospective fleet owner everything a new truck offers except for two of the three main driveline components (engine, transmission, or rear axle). The fleet owner can either recapitalize any of the driveline components from the existing unit or specify a factory-installed remanufactured engine or reman rear axle. APG says it has U.S. Environmental Protection Agency engine family approvals for all six engine platforms that HTC uses in its glider kits.
On July 27, APG CEO Lyle Jensen will be presenting on the company's dual-fuel technology powering drilling rigs and heavy-duty trucks with converted flare gas.
'We see significant opportunities emerging for us in the Bakken and are excited to spotlight our 'Fueled By Flare' dual-fuel natural gas system throughout the three-day event," says Jensen. "A convergence of technologies now allows wellhead/flared gas in the oil and gas fields to be filtered and conditioned to harvest the methane, propane and butane contained in what has been considered a waste gas by the exploration and production (E&P) companies. Over 70 percent of APG's dual-fuel stationary oil rig conversions are operating on conditioned wellhead gas, and we have six drilling rigs operating successfully on high-BTU conditioned wellhead/flared gas in the Bakken.
"While there are significant opportunities associated with the use of conditioned wellhead gas in stationary oil and gas drilling applications, we see a much larger addressable market in the thousands of heavy-duty trucks supporting the oil and gas exploration industry in the Bakken," he continues.
Photo courtesy of APG: The "Fueled by Flare" dual-fuel Freightliner 122SD that will be on display in Booth 1001 next week at the Bakken Conference & Expo.