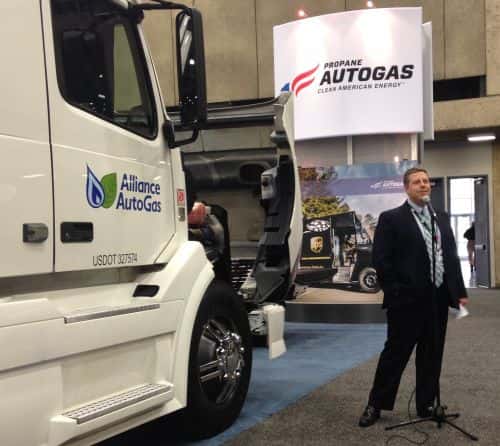 At the 2015 Alternative Clean Transportation (ACT) Expo in Dallas, Alliance AutoGas has unveiled a diesel displacement system for the Volvo D13/Mack MP8.
Achieving a first-ever U.S. Environmental Protection Agency (EPA) compliance, the system completed testing for the first on-road U.S. diesel/autogas mixed fuel EPA certification, according to Alliance AutoGas. EPA certification was awarded on the Detroit Diesel 14.0L, with approval on the Volvo D13/Mack MP8 expected soon.
Alliance AutoGas says the OEM-quality system features a quick and simple one-day install and is backed by a one-year, 100,000-mile warranty and a nationwide parts and service network. The bi-fuel autogas system allows operation wherever a fleet needs to be, eliminating range anxiety, and multiple tank options to meet range requirements and cab configurations, adds Alliance AutoGas.
"This allows a company to gain a competitive advantage by being able to earn business based on sustainability initiatives," notes Stuart Weidie, president of Alliance AutoGas. "Our diesel displacement system builds brand awareness through progressive action."
Furthermore, Alliance AutoGas says the system allows fleet owners to experience significant fuel cost savings of 15% or more without having to buy a new vehicle.
Photo caption: Ed Hoffman, president of Blossman Services, showcases the diesel displacement autogas system on the Volvo D13/Mack MP8 engine at the ACT Expo.