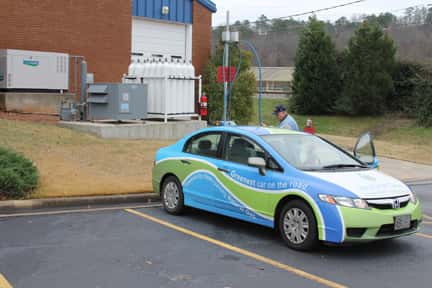 Officials in Trussville, Ala., this week approved funding that will support the city's continued shift toward natural gas vehicles (NGVs).
According to coverage in the Trussville Tribune, the city's Streets and Sanitation Department is getting two Ford F-250 extended-cab pickups and one F-250 crew cab, and the Parks and Recreation Department will take delivery of one F-250 extended cab and one F-350 with a dump body.
The total investment in these vehicles, which will run on compressed natural gas (CNG), will be between $200,000 and $210,000. The Tribune notes that the city's police department is finishing up CNG conversions on three Chevy Tahoes.
Trussville Utilities and McCullough Oil recently completed the installation of CNG infrastructure at a Chevron station in the city. The municipal fleet will refuel here, and the CNG pump will be available to the public in March.
PHOTO: Trussville Mayor Gene Melton filling up a Honda Civic CNG. Photo by the Trussville Tribune