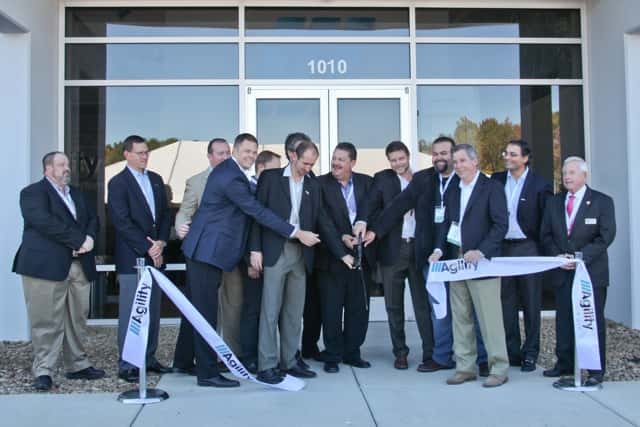 Agility Fuel Systems, a California-based designer and producer of natural gas fuel systems for heavy-duty vehicles, celebrated the opening of its new manufacturing plant in Salisbury, N.C., on Wednesday. The company says more than 300 guests attended the ribbon-cutting ceremony.
"Agility's investment in this facility demonstrates our deep commitment to the development and adoption of natural gas as a transportation fuel in the heavy-duty vehicle industry. Our new 204,000-square-foot facility is the first truly vertically integrated natural gas fuel system manufacturing plant in North America and is a game-changer for our industry," said William Nowicke, Agility's COO and interim CEO.
"From the raw aluminum and steel for the frames and covers to the resin and carbon fiber for the cylinders, to installation onto the truck, Agility will now have complete control in one location over the quality, cost, and delivery of our natural gas fuel systems to our customers," he continued.
Agility says speakers at the event also highlighted how the new facility will have a positive impact on the community:
Paul Woodson, mayor of Salisbury, said, "Salisbury is proud to partner with Agility Fuel Systems on this new facility, bringing jobs to our community and producing a clean technology product that has a positive environmental impact."
Greg Edds, chairman of the Rowan County Board of Commissioners, welcomed the company to the community and stated, "I am here as a representative of the great people of Rowan County to thank you for picking our county, investing in our people and our community."
Completion of the Salisbury facility marks the transition in Agility's manufacturing footprint from Kelowna, Canada, to the new plant, which will happen over the next six months; Kelowna will remain as Agility's technical engineering center for the company.
According to Agility, the Salisbury plant's capabilities will include compressed natural gas (CNG) cylinder production, structure and cover fabrication, a paint shop, fuel system assembly and installation, and onsite fueling capability.
"With this facility, which represents a $20 million investment, we will be able to meet and exceed the most stringent product requirements that our fleet customers, dealers, and OEMs demand," commented Nowicke. "We want to thank all of our suppliers, contractors and employees for making this plant a reality. We are excited by the prospects for our company and the natural gas industry."