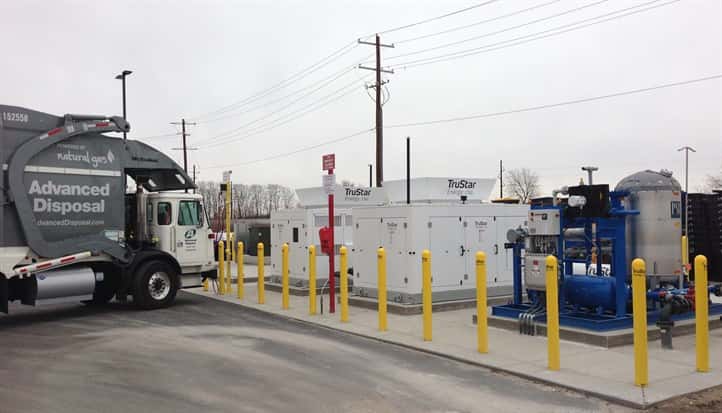 Advanced Disposal, a refuse and recycling company that operates in more than a dozen states, has opened its ninth compressed natural gas (CNG) station. Developed by TruStar Energy and located at a hauling facility in Batavia, Ill., the station will be used to refuel Advanced Disposal's CNG trucks at night.
Currently, Advanced Disposal operates 14 CNG trucks out of the Batavia location, and this number will increase as the company replaces retiring diesel trucks once their useful life has expired.
Richard Burke, CEO of Advanced Disposal, says that the company is "proud of the fact" that approximately 15% of its nationwide fleet will run on CNG by year's end – meaning about 345 CNG trucks.
"We continue to invest in CNG to not only keep our fleet running cleaner and to create a more sustainable Earth, but this cleaner fuel source also reduces operations costs, thereby enhancing stakeholder returns," says Burke.
The Batavia station cost approximately $2 million to build and is one of several CNG facilities Advanced Disposal and TruStar Energy have teamed up on.
TruStar Energy General Manager Scott Edelbach says, "TruStar Energy is proud to continue our relationship with Advanced Disposal – in assisting them with expanding their use of domestic compressed natural gas. Advanced Disposal continues to be a leader in migrating their refuse truck fleet toward a cleaner-burning fuel that benefits them as well as the customers that they serve."