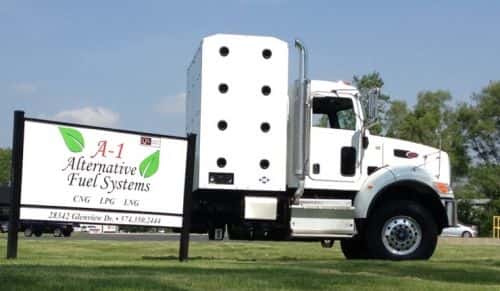 A-1 Alternative Fuel Systems, a California-based company that specializes in alternative fuel vehicle conversions, says it has developed its largest compressed natural gas (CNG) tank package to date.
The company recently built a 210 DGE back-of-cab system on a Peterbilt 348 truck for a Missouri-based wastewater pipeline rehabilitator. A-1 assembled the cabinet at its Elkhart, Ind., facility, and the system features eight 21′ by 80′ Type IV tanks.
At the customer's request, A-1 installed two regulators on the truck so that the CNG system will be able to fuel not only the vehicle's Cummins Westport 8.9L ISL G engine, but also a second engine that another firm is installing to power the truck's body.
According to A-1's Will Gutilla, the company has already received orders for its new 210 DGE offering from other customers seeking extended range for long-haul trucking applications.
Gutilla says the CNG package could allow a truck to drive between 700 and 900 miles on a single fill-up, provided that the CNG system will be used to fuel only the truck.
Photo courtesy of A-1 Alternative Fuel Systems: A-1's first 210 DGE CNG tank package, which was installed on a customer's Peterbilt 348 truck.