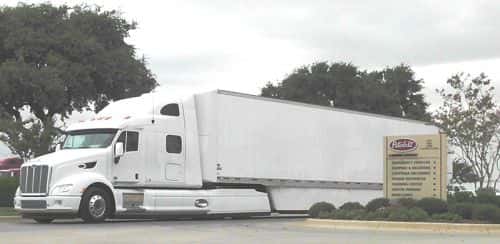 Cummins Inc. and PACCAR division Peterbilt Motors Co. have wrapped up testing on a demo tractor-trailer – a 'SuperTruck' – and the results show that the rig achieved an improvement in fuel economy exceeding 50%.
The Peterbilt 587 was powered by a Cummins ISX15 engine, and the tractor-trailer had a CGVW of 65,000 lbs. It made 11 runs last fall along a 312-mile route between Fort Worth and Vernon, Texas, logging just over 3,400 miles in total.
The truck averaged 9.9 mpg during testing, the companies say. This compares to an average fuel economy of long-haul trucks of between 5.5 mpg and 6.5 mpg.
Peterbilt and Cummins say the truck was able to achieve this level of fuel economy through significant advancements in powertrain technology, including engine enhancements and the integration of a next-gen transmission from Eaton. Improved aerodynamics and the use of lightweight materials also played a huge role, as did new electronic controls and low-rolling-resistance tires.
'Many of the technologies we are testing on the engine and truck will be integral parts of the trucks of tomorrow,' says David Koeberlein, principal investigator for the SuperTruck program at Cummins.
The U.S. Department of Energy launched the SuperTruck initiative in 2009, with a goal of achieving 50% freight-efficiency improvements by 2014. The Cummins/Peterbilt team has already invested nearly $40 million in its own program, matched by DOE grants.
Daimler Trucks North America, Navistar Inc. and Volvo Trucks North America are also working with the DOE on their own SuperTruck demonstration units.