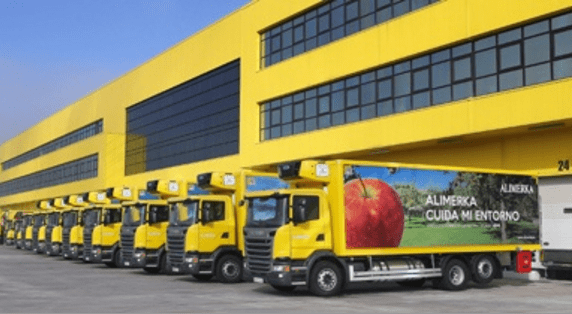 Alimerka, a Spanish supermarket chain with a "green" business model, has added 20 Scania liquefied natural gas (LNG)-powered vehicles to its road transport fleet.
According to the chain, each natural gas truck generates 40 tons less CO2 annually, reducing the emissions footprint by 30% compared with standard diesel vehicles.
As reported, Alimerka has relied on Scania to carry out this operation, totaling a EUR 3 million investment.
Alimerka says that these vehicles have two LNG tanks and boast a range of 1,000 kilometers. This road transport fleet delivers goods to the different outlets that the chain has in Asturias, Castile and León, and Galicia. According to the company, the vehicles' versatility also allows them to deal with the distribution within cities, citing how they generate half the noise of a conventional truck.
Alimerka, which has its own LNG tank to refuel trucks within its logistics center in Lugo de Llanera, says its goal in making this new commitment is to provide a sustainable and efficient solution for the environment, while also reducing consumption and, consequently, achieving cost reduction.
The supermarket chain says it has been conducting urban deliveries with electric vans since 2012, noting that its 26 electric vehicles distributed more than 95,000 orders last year.