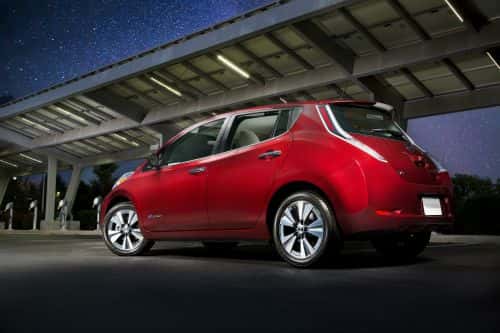 Nissan has introduced the model-year 2016 all-electric LEAF with an available 30 kWh battery that the company says provides an EPA-estimated range of 107 miles – a 27% increase over the previous 24 kWH battery. The new battery is standard for LEAF SV and LEAF SL models.
'Since Nissan LEAF launched in December 2010, we've become the global leaders in electric vehicle sales with an all-electric car specifically designed for the mass market,' says Nissan's Andrew Speaker. 'We know that to maintain that leadership, we must continue developing battery technology that strikes that ideal balance between capacity, packaging, durability and affordability.'
According to Nissan, the 2016 LEAF has a starting price of $26,700 after the federal tax credit of $7,500 for the SV model and $29,290 for LEAF SL after the federal tax credit. LEAF S models continue to be equipped with a 24 kWh battery with an EPA-estimated range of 84 miles. Starting price for 2016 Nissan LEAF S grade remains $21,510 after the federal tax incentive.
All LEAF models feature an 80 kW AC synchronous motor that generates 107 hp and 187 lb-ft of torque. Nissan notes the vehicles and their batteries are assembled at the company's Smyrna, Tenn., plant.