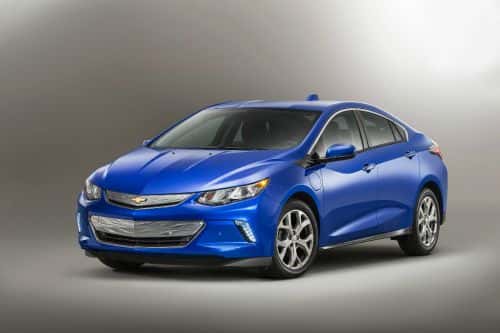 The 2016 Chevrolet Volt plug-in hybrid vehicle delivers 53 miles of pure-electric range, based on U.S. Environmental Protection Agency (EPA) testing. That is nearly a 40% improvement over the first-generation Volt.
According to a press release, Chevrolet expects many next-generation Volt owners will use power solely from their batteries for more than 90% of trips. Today, Volt owners use battery power on 80% of their trips. The release says this means the average Volt owner could expect to travel well over 1,000 miles between gasoline fill-ups, if they charge regularly.
For the first 53 miles, the Volt can drive gasoline-free using a full charge of electricity stored in its new 18.4-kWh lithium-ion battery, rated at a combined 106 MPGe, or gasoline equivalent. When the Volt's battery runs low, the release notes, a gasoline-powered generator operates to extend the driving range for a total of 420 miles on a full tank.
"We listened to our customers," says Andrew Farah, vehicle chief engineer, "They were very clear when they told us that they wanted more range, and a fun driving experience behind the wheel. We are confident that the 2016 Volt delivers both."
The release says the next-generation Volt's new 1.5L range-extender, designed to use regular unleaded fuel, offers a combined EPA-estimated fuel efficiency of 42 MPG.