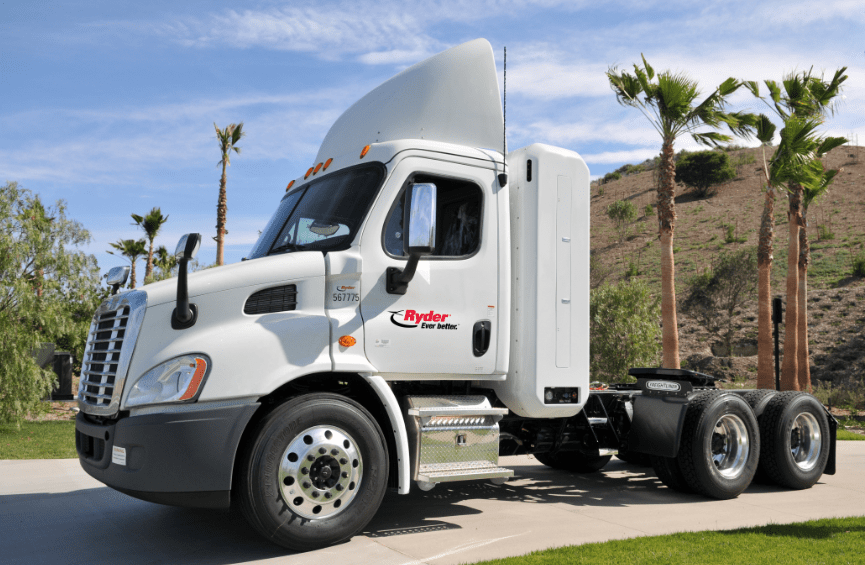 In the latest natural gas vehicle (NGV) announcement, Ryder System Inc., a provider of commercial fleet management, dedicated transportation and supply-chain solutions, says its fleet of NGVs has officially surpassed 100 million miles of operations.
According to Ryder, this achievement makes it the first commercial fleet outsourcing provider to reach this milestone.
"This latest milestone reinforces Ryder's ongoing commitment to assist companies – across multiple industries – reduce fuel costs, lower carbon output and meet their environmental objectives," says Robert Sanchez, Ryder's chairman and CEO. "When companies outsource their transportation and logistics operations to us, they not only get cost efficiency, but also the benefits of our environmental expertise, infrastructure, maintenance and industry-leading partnerships."
In addition, Ryder tracks emerging fleet technologies, incentive programs and government rebates to deliver competitive lease and rental rates for customers interested in NGV solutions.
Michigan-based beverage container recycling company UBCR LLC made an announcement that it would be renewing its NGV lease with Ryder for its entire truck fleet, becoming the first Ryder customer to transition from first-generation NGVs to the latest available technology, according to the company.
UBCR LLC says it has operated its Ryder NGV fleet for more than 7 million miles since 2011, reducing its greenhouse-gas emissions by approximately 2,704 metric tons of carbon-dioxide equivalent (MTCO2e) and replacing more than 1 million gallons of diesel fuel with lower-emission, domestically produced natural gas. As reported, 16 compressed natural gas (CNG) vehicles, designed with the latest modifications and technological advances, will replace UBCR's entire truck fleet.
"Ryder's advanced energy portfolio, expertise and infrastructure in the market were key factors driving our decision to select them as our fleet partner five years ago, and it remains so to this present day as we continue to enjoy all the benefits of operating NGVs," says Nick Kronsbein, general manager for UBCR.
"Ryder made it easier for us to jump-start our sustainable transportation program and convert our entire UBCR fleet to abundant, clean and efficient natural gas," he continues. "In the process, UBCR has gleaned financial benefits, including gaining more control over our costs and budgets by investing in a predictable and stable fuel source while also contributing to the well-being of our environment."
Ryder has made significant strides in the sustainability effort since 2011, including the following:
2011 – Ryder partnered with the San Bernardino Associated Governments to purchase and deploy more than 200 heavy-duty natural gas powered-trucks. Today, the company has achieved 100 million miles with its NGV fleet operations, eliminating more than 35,269 MTCO2e of greenhouse-gas emissions and replacing approximately 15.4 million gallons of diesel fuel.
2013 – Ryder opened its first natural gas fueling stations in its North American network to serve both the general public and Ryder lease and rental customers. The liquefied to compressed natural gas stations are located at two of Ryder's maintenance and fueling facilities in Orange and Fontana, Calif. Ryder also partnered with Clean Energy Fuels to switch the fuel at its stations in California to Clean Energy's Redeem renewable natural gas (RNG).
2015 – Ryder announced the launch of a new online NGV maintenance training program for its North American maintenance network, providing the company's entire technician workforce with knowledge on a wide array of NGV platforms and configurations. Ryder currently has 22 NGV maintenance facilities with more than 5,500 NGV-trained maintenance and support personnel.
"Well-maintained vehicles of any kind are better for the environment, with reduced emissions and improved fuel consumption. Traditional shops must go through a modification process to meet stringent industry and government safety standards for NGV maintenance, and technicians must receive extensive, specialized training. Ryder is now in a position to train any existing, or new, technicians on the latest NGV technologies," says Scott Perry, Ryder's vice president of supply management and global fuel products.
Ryder's NGV fleet consists of compressed and liquefied NGVs serving customers in Arizona, Arkansas, California, Florida, Georgia, Louisiana, Maryland, Michigan, Minnesota, Mississippi, New York, Pennsylvania, Tennessee, Texas, Utah, Wisconsin, and both Ontario and Quebec.