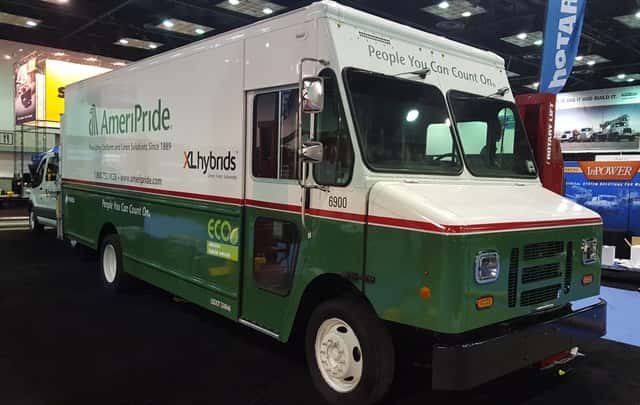 XL Hybrids has announced it is featuring an AmeriPride F-59 service truck upfitted with the XL3 Hybrid Electric Drive System in booth #525 at the NTEA Work Truck Show. Hybrid-electric F-59 trucks are the latest on-road deployment of XL Hybrids technology by AmeriPride, which already operates a fleet of service vehicles with XL3 systems in North America.
"Our technology partnership with XL Hybrids has yielded tangible results for our corporate fleet that are helping AmeriPride reduce our carbon footprint and save money," says Banny Allison, fleet manager at AmeriPride Services. "AmeriPride is implementing a variety of sustainability programs across North America, including alternative fuel vehicles, heat reclamation systems in the plants, solar power, mat and paper recycling, water conservation, and more. The fuel efficiency from XL Hybrids technology can also help improve the productivity of our drivers, who can go longer between fill-ups and potentially make more product deliveries."
Since 2013, AmeriPride Services fleet vehicles with XL Hybrids technology have driven more than 200,000 cumulative hybrid road miles, yielding approximately a 24% improvement in MPG and a reduction in CO2. This has translated into over 3,000 gallons of fuel saved and over 30 metric tons of CO2 avoided, to date. Over the projected 8-10 year life of these vehicles with XL Hybrids technology, AmeriPride is tracking to reduce more than 15,000 gallons of fuel over 140 metric tons of CO2.
All field results are being captured by XL Hybrids' proprietary wireless data connectivity system, which tracks key performance indicators such as MPG, vehicle duty cycle and CO2 emissions reduction. F-59 trucks upfitted with XL Hybrids technology this yearwill significantly increase these sustainability accomplishments.
The XL3 hybrid system is installed aft of the transmission in about six to eight hours. Fleets maintain the Ford OEM warranty and get a three-year, 75,000-mile warranty on the XL3 hybrid powertrain.
"XL Hybrids is proud to display our XL3 hybrid-electric system for Ford F-59 super-duty trucks in collaboration with AmeriPride at the NTEA Work Truck Show," says Clay Siegert, co-founder and chief operating officer of XL Hybrids. "Our XL3 hybrid system provides up to a 25 percent increase in miles per gallon, with minimal impact to fleet operations, and no driver training or charging infrastructure requirements."