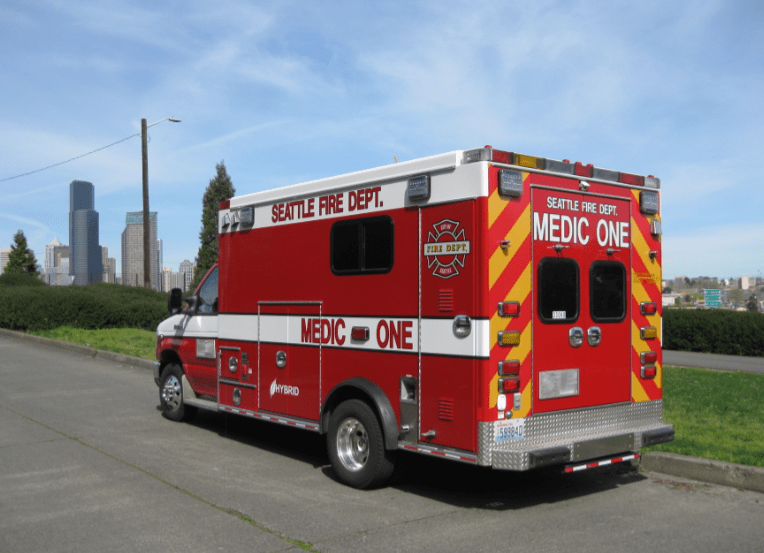 XL Hybrids Inc., a connected fleet electrification solutions provider for commercial and municipal fleets, has announced that several ambulances for the City of Seattle's fire department are now equipped with the XL3 Hybrid Electric Drive System.
According to the company, XL Hybrids retrofitted Ford E-450 ambulances, with a goal of increasing miles driven per gallon for the fire department and reducing both carbon-dioxide and nitrogen-oxide emissions. In just nine months, with the hybrid-electric ambulances, the Seattle Fire Department had reported a 23% increase in miles driven per gallon and a 19% reduction in carbon-dioxide emissions.
Reducing fleet emissions is a key goal for the city, as outlined in Mayor Ed Murray's Drive Clean Seattle Initiative, the company notes.
Seattle has now committed to ordering up to 10 more vehicles this year, including Ford Transit vans equipped with XL Hybrids systems for the Seattle Department of Public Utilities.
The hybrid-electric ambulances have been used over tens of thousands of miles of driving on Seattle's steeply graded urban streets and in fluctuating temperature. Used in 911 emergency response in Seattle's city center, the XL Hybrids system has the same or better torque than stock ambulances.
"By proving themselves in a rigorous and demanding urban duty cycle, the retrofitted hybrid-electric ambulances are a successful beginning to our partnership with the City of Seattle," says Clay Siegert, co-founder and chief operating officer of XL Hybrids. "We look forward to expanding our hybrid vehicle program with Seattle to reduce carbon-dioxide and NOx emissions and to continue contributing to Seattle's sustainability initiatives."
The company adds that the ambulances are equipped with XL Link, XL Hybrids' proprietary cloud-based fleet vehicle connectivity and analytics system, which measures mile-per-gallon performance, fuel savings and CO2 reduction, allowing fleet managers to monitor their sustainability goals and cost savings.
According to XL Hybrids, its hybrid-electric technology requires no fueling infrastructure, no special plugs and no extra driver training. Compatible with new and existing Class 2 to 6 commercial fleet vehicles, the XL Hybrids system can be installed in just hours and leaves the original equipment manufacturer's powertrain and warranty completely intact.