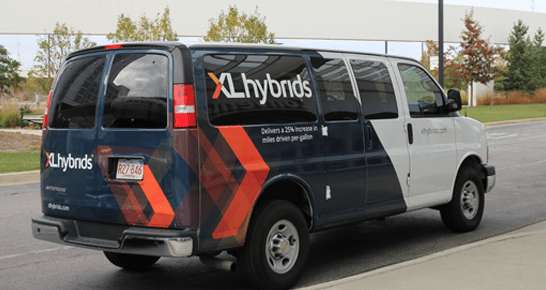 XL Hybrids Inc., a provider of fleet electrification solutions for commercial and municipal fleets, has received approval from the California Air Resources Board (CARB) for the first California Heavy Duty Voucher Incentive Project (HVIP) vehicle eligibility allowing significant discounts for aftermarket conversions of gasoline-powered General Motors (GM) 2500 and 3500 passenger and cargo vans into hybrid electric vehicles.
According to XL, businesses and organizations with fleets in California can receive $2,500 vouchers for each GM van upfitted with XL Hybrids' XL3 Hybrid Electric Drive System for up to 100 vehicles per fleet. The second set of 100 vehicles per fleet will receive $2,000 vouchers for each upfitted GM van.
"XL Hybrids continues to blaze the trail in California with the first HVIP-eligible hybrid electric vehicle conversion of newly purchased GM vans with under 3,500 miles," says Ed Lovelace, chief technology officer for XL Hybrids.
"Our XL3 Hybrid System is especially effective for fleets in urban settings and vehicles in stop-and-go traffic, delivering immediate fuel savings and sustainability benefits to corporate fleets. HVIP eligibility also establishes that CARB recognizes the value of hybrid electric conversions as a catalyst towards meeting the long-range greenhouse-gas [GHG] reduction and air-quality goals," he continues.
Fleets are increasingly looking to alternative fuels and sustainability efforts in order to adhere to strict statewide mandates in California, such as A.B.32, that aim to reduce GHG emissions to 1990 levels by 2020 – a reduction of approximately 30% – and then an 80% reduction below 1990 levels by 2050.
According to XL, the XL3 system increases miles driven per gallon by approximately 25% while working with zero impact on fleet operations and no driver training, no special plugs, charging or fueling infrastructure requirements.
"It's easy for fleets to take advantage of the HVIP program with XL Hybrids because we do all the heavy lifting for California fleets converting their GM vans to hybrids," says Clay Siegert, chief operating officer and co-founder of XL Hybrids. "GM vans can be conveniently and efficiently upfitted with our XL3 system through partner installation facilities across California. Once the conversion is completed, XL Hybrids submits the voucher paperwork on behalf of the fleet."