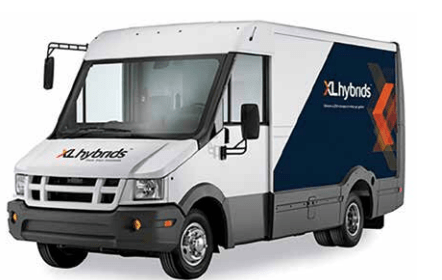 XL Hybrids Inc., a connected fleet electrification solutions provider for commercial and municipal fleets, says the company has been awarded test funding from the U.S. Department of Energy (DOE) Small Business Vouchers (SBV) Pilot, which aims to overcome specific technical challenges and drive the nation's clean energy economy toward greater commercial success.
According to XL, testing validation and analysis of its XL3 Hybrid Electric Drive System for Reach walk-in commercial vans will be performed at Argonne National Laboratory.
"The Reach commercial van from Isuzu and Utilimaster is the first diesel-powered vehicle with the XL3 powertrain," said Ed Lovelace, chief technology officer for XL Hybrids. "This recognition and funding for collaboration with the DOE further reinforces the value of our XL3 technology in the clean energy ecosystem. The award demonstrates the DOE's understanding that the XL3 product has the potential for significantly increasing the market penetration of electrified solutions into the commercial vehicle sector."
Launched by the DOE Office of Energy Efficiency and Renewable Energy, the SBV Pilot matches select clean energy small businesses with experts from the national labs and gives the businesses vouchers that they can exchange for national lab technical assistance. A network of advanced science and technology centers, U.S. national laboratories push the boundaries of research to address current and anticipated energy challenges.
According to XL, vouchers range from $50,000 to $300,000 and focus on nine clean energy technologies.
The XL3 hybrid system is available on the Reach van with 2,500 pounds payload capacity with the XL3 system installed. The Reach van is a high-roof Class 3 delivery van that comes with a standard 151.4-inch wheelbase and the high-efficiency 3.0 L, 150 HP, Isuzu DOHC I-4 diesel engine.