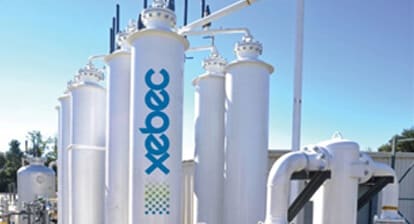 Quebec-based Xebec Adsorption Inc. has announced a strategic partnership with JNK Heaters Co. Ltd. of Korea to advance biogas upgrading and on-site hydrogen generation solutions.
Through this collaboration, JNK will exclusively market the Xebec biogas solutions in Korea and India and use Xebec's pressure swing adsorption technology in its on-site steam methane reformer (SMR)-based hydrogen generation products. Additionally, Xebec will have exclusive rights to manufacture and market JNK's SMR-based on-site hydrogen generators in North America and Europe. Both companies will also explore opportunities to collaborate in the Chinese market.
According to the partners, the companies will address emerging opportunities in the biogas, renewable hydrogen generation, and hydrogen purification and refueling industry. Xebec and JNK will join forces to develop solutions for fuel cell automotive, forklift and heavy-duty applications. Further details are expected in the near future.
"This collaboration will allow both companies to gain market share in the rapidly developing hydrogen fueling, renewable hydrogen and renewable natural gas markets," notes Kurt Sorschak, president and CEO of Xebec Adsorption Inc.