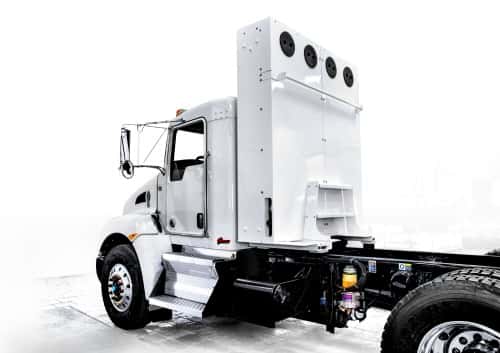 Worthington Industries Inc., one of the biggest metals manufacturing companies in the world, has added to its long list of acquisitions in the alternative fuel industry. The company's pressure cylinders business has purchased Ohio-based Trilogy Engineered Solutions' compressed natural gas (CNG) fuel systems technology and related assets.
"This acquisition accelerates the opportunity for growth in our alternative fuels business and supports our commitment to provide reliable high-quality alternative fuel tanks and systems," says Andrew Billman, president of the Worthington's pressure cylinders business, in a press release. "It also increases our opportunity to partner with Trilogy's established network of dealers and service centers, and provide value through the supply chain."
Trilogy products include back-of-cab and rail-mount CNG systems in a variety of sizes. In August, the company touted increased benefits of its second-generation back-of-cab systems, which Trilogy said ranged from 120 DGEs to 170 DGEs. The company's product portfolio also includes a unibody, 60 DGE mini back-of-cab system.
Sonya Higginbotham, a Worthington spokesperson, tells NGT News that Trilogy's fuel system assembly assets will be integrated into Worthington's  joint venture in Salt Lake City, which Worthington acquired last year. The Trilogy deal does not include any employees or facilities, she notes. (Worthington's previous alt-fuel industry buys also included James Russell Engineering Works Inc., ARITAS, and Palmer Manufacturing and Tank Inc.)
Furthermore, Higginbotham says another benefit of the Trilogy purchase is that it gives Worthington a partnership with Palmer Truck, an Ohio-based OEM outfitter and one of the founding members of Trilogy.
In Worthington's press release, Billman says, "We are also pleased to work with Palmer Trucks and an established dealer network, to continue developing CNG technology that improves fuel economy, and ultimately fleet profitability and further CNG adoption in on-highway and vocational markets."
According to Trilogy's website, CEO Gary Gibb launched the CNG fuel system company in 2012. In an emailed statement, Gibb says the sale "was meant to give Trilogy the strength of Worthington so our technique can grow into future markets" and the two companies are "coming together to lead the industry."
"We all view this as a very positive partnership moving forward," he says. "Worthington has recognized Trilogy as a leader in the field, and this partnership will only support what resources will be required to meet the challenges ahead."
Financial information and other terms of the acquisition were not disclosed.
Photo courtesy of Trilogy Engineered Solutions: The company's 60 DGE mini back-of-cab CNG fuel system.