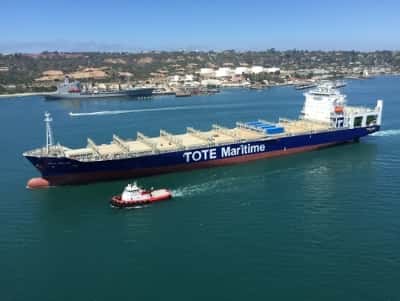 General Dynamics NASSCO has delivered the world's first liquefied natural gas (LNG)-powered containership, named the Isla Bella, to TOTE Maritime.
The 764-foot-long ship was delivered nearly two months ahead of schedule and is part of a two-ship contract signed with TOTE in December 2012. The new ships will operate between Jacksonville, Fla., and San Juan, Puerto Rico.
"Successfully building and delivering the world's first LNG-powered containership here in the United States for coastwise service demonstrates that commercial shipbuilders, and owners and operators, are leading the world in the introduction of cutting-edge, green technology in support of the Jones Act," says Kevin Graney, vice president and general manager of General Dynamics NASSCO.
TOTE, NASSCO, the American Bureau of Shipping, and the U.S. Coast Guard worked hand-in-hand from the beginning of the project to the delivery of the Isla Bella. This included collaboration during the design approval, construction and commissioning the ship to safely and effectively run on natural gas.