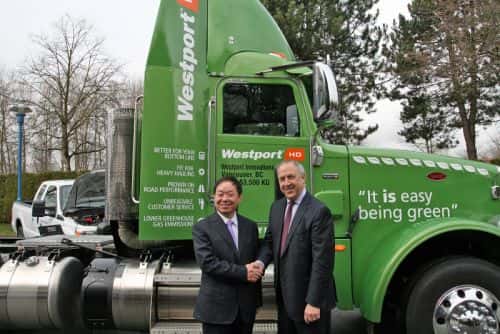 Natural gas engine maker Westport Innovations Inc. has formed an agreement with ENN Group Co. Ltd., a large China-based clean energy company, to expand both companies' reach in the global market for natural gas as a transportation fuel.
ENN, which has more than 100 subsidiaries around the world and employs upwards of 30,000, has already built in excess of 200 natural gas refueling stations in China and is planing to develop liquefied natural gas (LNG) plants and LNG stations in North America under the BLU brand. Westport and ENN will be looking beyond China and North America, however, with potential activities in Europe, Australia, Africa and Asia all within the scope of the firms' agreement.
To date, Westport's natural gas engine offerings have largely focused on serving the on-road segment, but the partnership with ENN encompasses the pursuit of advancements in multiple applications, including marine, mining and rail.
'ENN has been aggressively increasing the capacity for natural gas transportation across the spectrum of vehicles, and with this agreement, we will work strategically to increase the number of vehicles, fleets and infrastructure for passenger vehicles, trucks, marine, rail and mining industries,' says David Demers, CEO of Westport. 'They are an extremely innovative and entrepreneurial company, so we can expect a rapid response to demands in existing markets.'
Westport also plans on helping ENN and its customers with natural gas vehicle deployments, particularly by working with its existing OEM partners to tailor products and programs for ENN.
Photo: ENN Group Chairman Yusuo Wang and David Demers, Westport CEO. Courtesy of Westport.