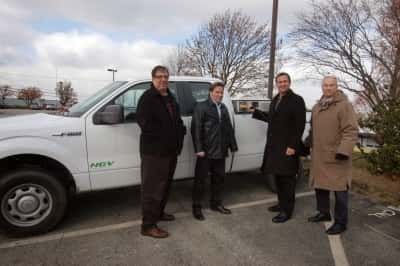 The Westmoreland Conservation District, an organization dedicated to protecting natural resources in Westmoreland County, Pa., recently purchased two compressed natural gas (CNG)-powered vehicles and installed a slow-fill station on its campus to fuel them.
The vehicles – two Ford F150 pickup trucks – are being used by the group's technical staff members, who travel to farms, forests and development sites throughout the county.
"Our staff drive a total of about 18,000 miles every year in the course of our work, and so when we had a chance to reduce the impact of that travel, improve air quality and reduce dependence on imported fuel – all of which the natural gas vehicles do – we were all for it," says Greg Phillips, Westmoreland Conservation District's manager/CEO. "Natural gas vehicles are a perfect fit with our mission of protecting the environment and conserving resources."
The vehicles were purchased locally as traditional gasoline-powered pickup trucks and converted to also run on natural gas by Mehaffey, Pa.-based Alternative Fuel Solutions at a cost of $9,500 each. Each truck's natural gas capacity is equivalent to 21.5 gallons of gasoline, which the organization estimates will provide about 450 miles of travel per fill-up.
"We've had the vehicles in operation only a short amount of time, but we anticipate that using compressed natural gas will result in significant fuel cost savings for our organization – perhaps as much as $1,500 a year," says Phillips. "We also expect to save on some of the traditional vehicle operating expenses because there is less wear and tear on the engines with compressed natural gas and less need for preventive maintenance."
The new slow-fill CNG station was installed with the help of the Westmoreland County Public Works Department and Greensburg, Pa.-based Adam Eidemiller Inc. The Westmoreland Conservation District says the station is very compact, about 3 feet by 3 feet by 5 feet, and fills the vehicles over a period of about eight hours.
The organization was able to add the CNG vehicles and station thanks to major financial support from the Pennsylvania Department of Environmental Resources and Peoples Natural Gas.
"This is a pioneering effort for us, marking the first slow-fill station that Peoples Natural Gas has donated to an organization in our 18-county service territory," explains Barry Kukovich, the company's manager of communications and community affairs.
The Westmoreland Conservation District notes that CNG fueling stations also made a debut in another part of Westmoreland County just a few weeks before the organization acquired its facility: In mid-November, Pennsylvania Turnpike Commission officials unveiled three fast-fill CNG fueling stations at the New Stanton service plaza, making it the first of the turnpike's 17 plazas to offer the alternative fuel.
Photo: Representatives from the Westmoreland Conservation District and Peoples Natural Gas pose for a photo next to one of the district's new CNG vehicles. Photo courtesy of the Westmoreland Conservation District.