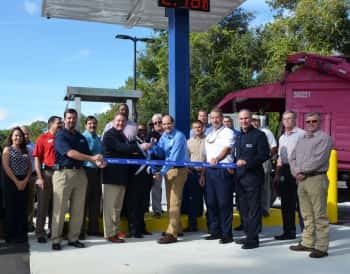 WCA Waste Corp., a Houston-based solid waste services company, has opened its first public-access compressed natural gas (CNG) fueling station. The new station, located at 5002 S.W. 41st Blvd. in Gainesville, Fla., is situated near WCA's existing time-fill CNG facility. Both stations were built by developer TruStar Energy.
Bob Shires, WCA regional vice president, says the company currently operates about 50 CNG trucks in the area. WCA is the preferred solid waste and recycling provider in Gainesville and Alachua County. In addition, WCA is the official sustainability partner of the University of Florida.
The company says its new CNG station is open to the public 24/7 and can accommodate a variety of natural gas vehicles ranging in size, from passenger cars to heavy-duty trucks. It also accepts all major credit cards and fleet cards.
"We are proud to offer the residents and businesses of Florida a cleaner fuel alternative in transportation to reduce greenhouse emissions and improve air quality throughout the region," states Shires. "WCA embraces new opportunities and methods to advance our sustainability efforts in the community. The opening of this CNG station is the next step at ensuring we keep the environment of Central Florida clean and beautiful for future generations."
"TruStar Energy is very proud to have customers like WCA that invest in natural gas infrastructure – not only to fuel their own fleet, but systems directed toward the general public," says TruStar Energy President and CEO Adam Comora. "CNG continues to be a stable and plentiful fuel that delivers both financial and environmental benefits – and these will only grow more apparent over time, as oil prices cannot remain at this level indefinitely."