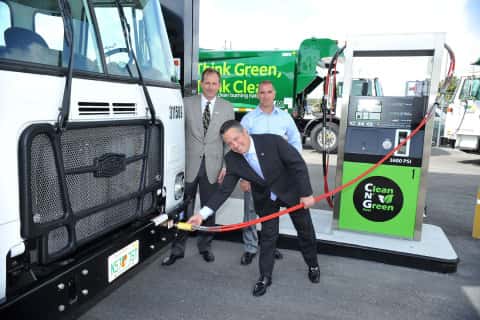 Collection, transfer and recycling giant Waste Management has opened a compressed natural gas (CNG) refueling station in Pompano Beach, Fla., that will accommodate WM's own fleet of natural-gas-powered refuse vehicles, as well as NGVs from other commercial and municipal fleets.
This 'Clean N' Green' fueling facility – the first in northern Broward County – is a critical asset for WM's 75 recently deployed CNG trucks, which service communities including Lauderdale Lakes, Coral Springs and Dania Beach. ET Environmental constructed the self-service station, where CNG is currently priced at $2.199/GGE.
'Every truck we replace with natural gas reduces its diesel use by an average of 8,000 gallons per year and cuts annual greenhouse gas emissions by 22 metric tons,' says Tim Hawkins, WM's Florida area vice president.
WM has more than 1,700 NGVs in operations, and the company will have 45 CNG fueling stations in place by the end of this year. In Florida, WM already has a CNG slow fill station in Sarasota, and two more are planned for Palm Beach County and Tampa in 2013. The company invested approximately $30 million in its Broward County CNG station and NGVs.
Â
Photo by Darryl Nobels, courtesy of WM: Tim Hawkins, Broward County Commissioner Chip LaMarca and WM Senior District Manager Jim Padovan at the station opening