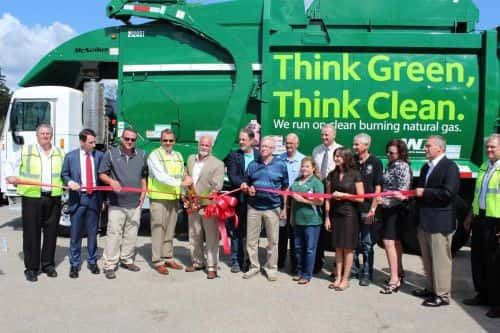 On Wednesday, Waste Management was joined by elected officials at the grand opening of the company's compressed natural gas (CNG) fleet facility in Walker, La.
According to Waste Management, the new CNG facility, servicing routes in Livingston Parish and the greater Baton Rouge area, is a major step toward the company's sustainability goals of reducing its fleet emissions and increasing its fuel efficiency.
In February 2014, Waste Management announced that it would begin a conversion of its truck fleet in the Baton Rouge area in the fourth quarter of last year, and according to a company spokesperson, the Walker facility is slated to ultimately house and fuel over 40 CNG vehicles. Waste Management currently operates more than 4,000 CNG trucks throughout North America.
Elected officials said at the event that the grand opening of the facility is an important development for both the City of Walker and Livingston Parish as a whole.
"I would like to commend Waste Management for stepping up to the plate, spending the necessary funds and being innovative to bringing clean natural gas," said Layton Parish President Ricks.
"This is bigger than the City of Walker," added City of Walker Mayor Rick Ramsey. "It's a benefit for us, because we're able to supply natural gas to the compressed natural gas station. But, for the parish as a whole, I think it's great. "Go green' is what we're all striving for."
Photo courtesy of Waste Management