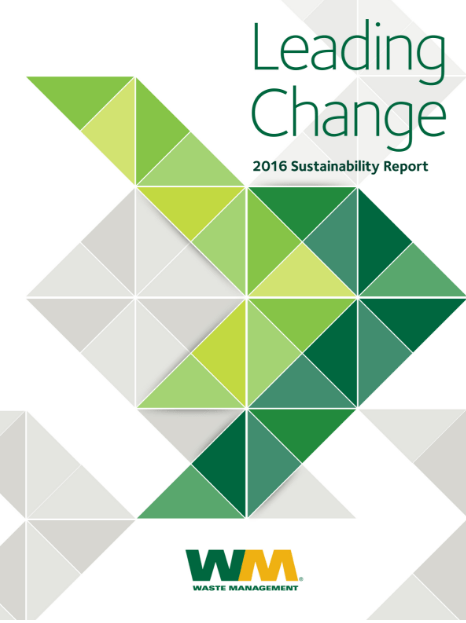 Waste Management (WM), a Houston-based provider of comprehensive waste management services in North America, has released its 2016 Sustainability Report, titled "Leading Change," which highlights the company's progress toward making recycling sustainable and reducing the company's greenhouse-gas (GHG) footprint.
As part of its efforts to improve emissions reduction, WM now operates more than 5,000 natural gas vehicles in North America, demonstrating the viability of natural gas as a transportation fuel.
"One of our primary strategies for reducing emissions is to transfer our fleet of 18,500 collection vehicles from diesel to cleaner-burning natural gas," the company says in the report. "In fact, we've been a pioneer in natural gas since the early 1990s. Today, we have more than 5,000 natural gas collection trucks on the road, which makes us the largest private vocational heavy-duty fleet user of natural gas in the nation.
"We continue to expand this fleet, with up to 90 percent of new trucks purchased in 2015 running on compressed natural gas. For every diesel truck replaced with natural gas, we reduce our use of diesel fuel by an average of 8,000 gallons annually and GHG emissions by 22 metric tons per year, which equates to a 21 percent GHG emissions reduction per truck.
"Natural gas-fueled trucks are also quieter than diesel and cut smog-producing nitrogen oxide emissions by up to 50 percent compared with the cleanest diesel trucks," the report continues. "In total, we've invested more than $1 billion in natural gas transportation innovation over the last two decades."
In addition, the company uses renewable natural gas (RNG) to fuel its trucks where possible. The report says nearly one-third of the WM fleet uses biogas, and 100% of the fleet in California runs on RNG. Nationwide, 36% of the company's natural gas fleet runs on biomethane.
WM also uses hybrids to reduce overall emissions: "In recent years, we have been transitioning diesel-powered bulldozers, which are important pieces of equipment used at our landfills, to diesel-electric hybrid machines. Currently, we operate the world's largest fleet of Caterpillar D7E bulldozers, which run on a smaller diesel engine powered by an electric generator. Our 30 diesel-electric bulldozers burn nearly 50 percent less fuel per hour than their predecessors."
Lastly, the report notes that WM works with the U.S. Environmental Protection Agency's SmartWay Transport Partnership, which assists companies seeking to make improvements in their fleets' environmental performance and provides models for tracking fuel consumption and efficiency.