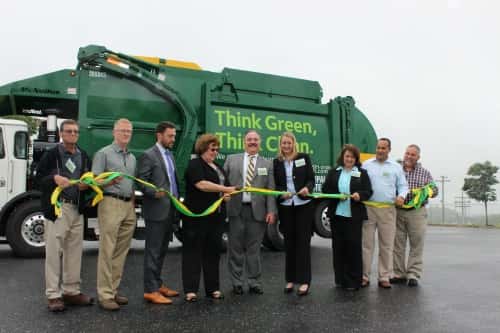 Waste Management's Grand Central Hauling Co. in Planfield Township, Pa., has revealed a fleet of 30 new compressed natural gas (CNG) collection trucks, as well as showcased a new public-access CNG fueling station.
Representatives from Waste Management and other officials held a ribbon-cutting ceremony on Thursday for the green fleet and station.
'We're thankful to the Pennsylvania Departments of Environmental Protection and Community and Economic Development, with whom we partner and work on many projects across the state,' said Tara Hemmer, vice president of Waste Management's Greater Mid-Atlantic area. "These departments provided grant funds that were critical to making this project a reality. We are thankful for the state's support."
Waste Management says the state DCED provided $806,000 in grant funding to support garage modifications and the construction of the CNG fleet and public fueling facilities. The state DEP provided two grants worth a total of $741,000 to support the purchase of the CNG trucks at Grand Central and other locations where the company is operating CNG trucks in Pennsylvania.
According to Waste Management, development of the fleet and public fueling facilities and modifications to Grand Central's garage totaled more than $3.2 million, and the purchase of the 30 CNG trucks at Grand Central was worth in excess of $10 million.
Hemmer said the Grand Central project is Waste Management following through on its environmental initiatives the company announced in 2007. Waste Management's initiatives include a pledge to improve its fuel efficiency by 15% and reduce its fleet's exhaust emissions by 15% by 2020. The company, largely due to the CNG conversion of its large fleet across North America, says it achieved its emissions goal in 2011.
Photo courtesy of Waste Management