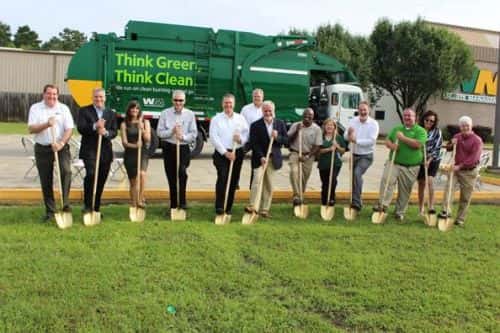 Waste Management has officially broken ground on a new compressed natural gas (CNG) fleet facility in Walker, La.
The company says the fleet facility, which will service routes in Livingston Parish and the rest of the greater Baton Rouge area, is a major step toward Waste Management's sustainability goals of reducing its fleet emissions and increasing its fuel efficiency.
"This was a collaborative effort between Livingston Parish, the City of Walker and Waste Management, and it could not have been accomplished without the work of all those involved," said Waste Management's Warren Guedry at a groundbreaking ceremony, which included several local officials.
In February 2014, Waste Management announced it would begin converting 40 trucks in its fleet in the Baton Rouge area to CNG in the fourth quarter of last year, and the project was anticipated to last six to eight months.
The Houston-based company started using natural gas for its heavy-duty truck fleet in the 1990s, and it already operates over 4,000 of these alternative fuel vehicles nationwide.