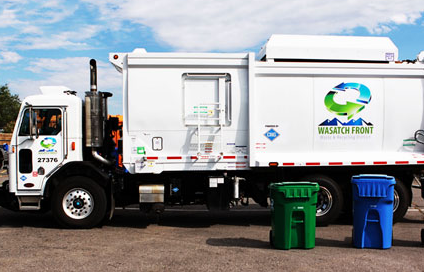 Wasatch Front Waste & Recycling District (WFWRD) in Utah has switched its entire fleet of residential collection trucks to compressed natural gas (CNG), helping the district accomplish goals in both financial and environmental stewardship.
As reported, WFWRD officially completed the five-year transition of its fleet of 46 residential collection vehicles in August 2016.
"We service over 82,000 homes every week. This equates to over 1.3 million miles every year," says Mike Allan, WFWRD deputy director over operations. "By using CNG vehicles, we can dramatically reduce the negative impact to our environment."
According to Natural Gas Vehicles of America, CNG vehicles emit 20% to 29% less greenhouse-gas emissions than comparable gasoline or diesel fueled vehicles. This means that on an annual basis, WFWRD is saving approximately 4,000 tons of carbon dioxide pollution by using CNG fuel.
Switching to CNG vehicles also works from a financial aspect, says Craig Tischner, Herriman City Councilman and current chair for WFWRD's Administrative Control Board: "We are committed to being accountable to our community to provide collection services in a healthy and safe manner. This inspired the district to move to an entirely CNG fleet for its collection vehicles. The past two years have shown a savings of approximately $780,000 in fuel costs since we started using CNG trucks. CNG fuel is less expensive than diesel fuel."
Wasatch Front Waste & Recycling District serves the Copperton, Emigration, Kearns, Magna and White City Metro Townships; the cities of Cottonwood Heights, Herriman, Holladay, Millcreek, Taylorsville, and portions of Murray and Sandy; and the unincorporated areas of Salt Lake County.