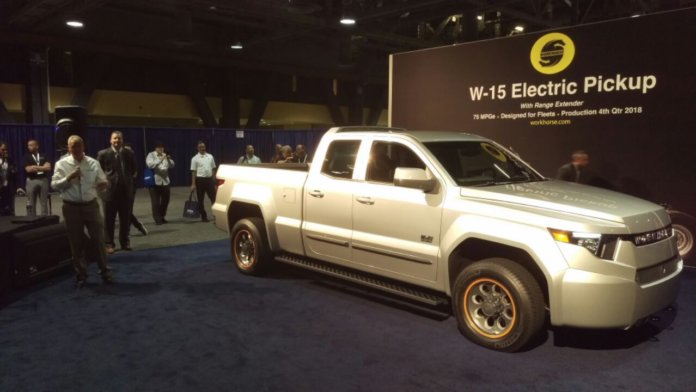 Workhorse Group Inc., an Ohio-based technology company and original equipment manufacturer (OEM) of battery-electric, range-extended vehicles for the commercial transportation sector, officially unveiled an electric pickup truck designed for the fleet market on Tuesday night.
The first drivable prototype of the W-15 plug-in, battery-electric range-extended pickup truck debuted at the Advanced Clean Transportation Exhibition (ACT Expo) in Long Beach, Calif. The unveil came shortly after Workhorse announced a strategic service and distribution agreement with Ryder System Inc. covering Workhorse's E-100 and E-GEN range-extended medium-duty vehicles, as well as the W-15 electric pickup truck.
W-15 production vehicles are expected in late 2018, and Workhorse says it has secured more than 4,650 letter of intent pre-orders for the electric pickup from more than 18 commercial fleets, which include W-15 Leadership Council members Ryder System Inc. and Duke Energy.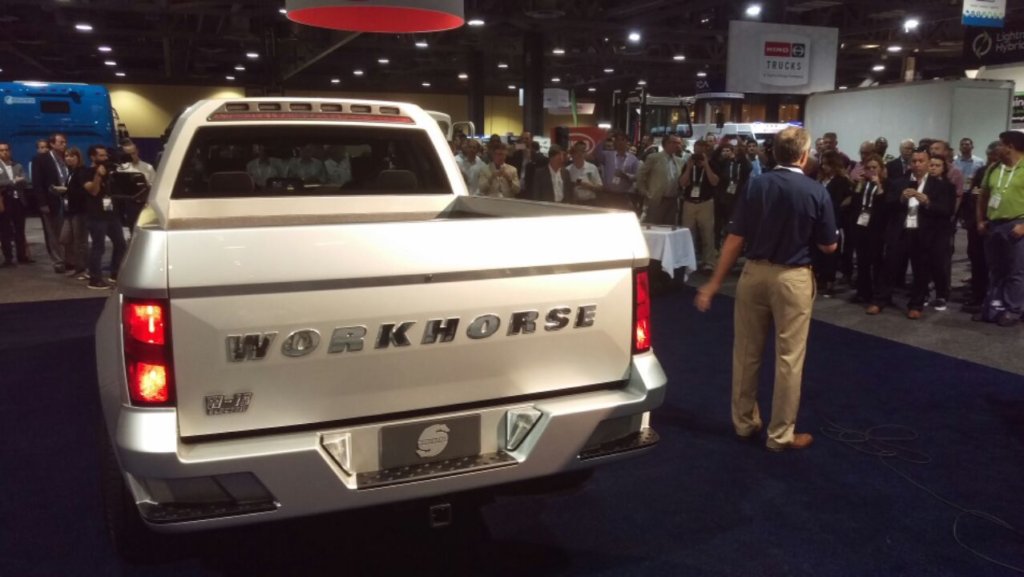 "It's here. It's ready. A new era in fleet vehicles begins," says Steve Burns, CEO of Workhorse, in a press release. "Our team designed the W-15 not only for exceptional performance, but also the lowest total cost of ownership, the lowest emissions profile, and with state-of-the-art autonomous controls and telematics. We have leveraged the platform technologies used in our commercially available E-GEN and W-100 medium-duty vehicles, as well as our partnerships with Panasonic and BMW to create the best light-duty transportation solution for the commercial sector."
The performance specifications of the Workhorse W-15 pickup include direct all-wheel drive and two electric traction motors that generate 460 HP, with acceleration from 0 to 60 MPH in up to 5.5 seconds. The W-15 also has a fuel-economy rating of 75 MPGe, with a range of 80 miles all-electric, and unlimited range when using the on-board BMW range extender.
"We set out to build the safest and most efficient pickup truck on the road, and it just happens to be electric," says Burns. "We formed the W-15 fleet Leadership Council and have listened to fleet engineers, managers and drivers in order to deliver the best pickup truck for commercial use, from cost of ownership to functionality to performance and, above all else, safety and dependability for the driver."
According to Workhorse, notable standard features on the W-15 include a 7.2 kW power export to plug in and operate power tools without running the vehicle and advanced safety features, such as dual airbags, collision avoidance/automatic braking and lane-departure warning. The W-15 crew cab includes seating for five passengers, with two front bucket seats and a rear bench, and the driver digital touchscreen controls include the integrated Workhorse Metron telematics system to maximize operator efficiency, the company adds.